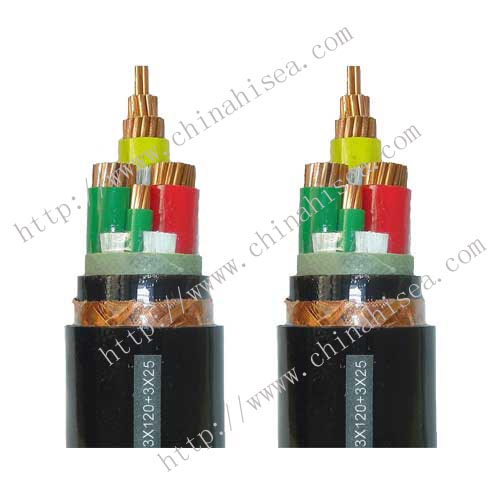 0.6/1kV Silicon rubber insulated and sheathed VFD power cable
0.6/1kV Silicon rubber insulated and sheathed VFD power cable application
This cable is intended for VFD power transmission system that requires higher heat resistant performance.
0.6/1kV Silicon rubber insulated and sheathed VFD power cable Service condition
cable conductor allows a maximum operating temperature of 180 ℃; minimum working temperature up to -60 ℃.
short circuit (the longest duration of no more than 5s), the maximum temperature of the conductor does not exceed 350 ℃.
Laying temperature not lower than 0 ℃.
copper or tinned copper braid shield bending radius of cable laying little five times its diameter, winding copper wire wrapped composite shielded cabling little bending radius 10 times its diameter.
0.6/1kV Silicon rubber insulated and sheathed VFD power cable features
It can improve system power factor, reduce the adverse effects of high harmonics of cables and equipment, reduce motor noise.
It has a good shielding performance, the shield transfer impedance measurement 30MHz, 60MHz two point values were not greater than 25Ω / m, 50Ω / m.
Ideal cable shielding factor: copper braided shield is not greater than 0.9, copper wire wrapped around the bag composite shield is not more than 0.6.
improve the safety performance of cables and electrical systems.
Change after 200 ℃ aging test of not more than ± 25%.
0.6/1kV Silicon rubber insulated and sheathed VFD power cable Model
| | |
| --- | --- |
| Model | Name |
| BPGGRP | Copper conductor silicone rubber insulated and sheathed VFD power cable |
| BPGGRPP | Copper conductor silicone rubber insulated and sheathed Dual layer copper wire braided shield VFD power cable |
| BPGXGRP11 | Tinned copper conductor silicone rubber insulated and sheathed tinned copper wire braided shield VFD power cable |
| BPGXGRPP11 | Tinned copper conductor silicone rubber insulated and sheathed dual layer tinned copper wire braided shield VFD power cable |
| BPGGRP1-2 | Copper conductor silicone rubber insulated and sheathed Copper wire bind and copper tape wrapped VFD power cable |
0.6/1kV Silicon rubber insulated and sheathed VFD power cable structure