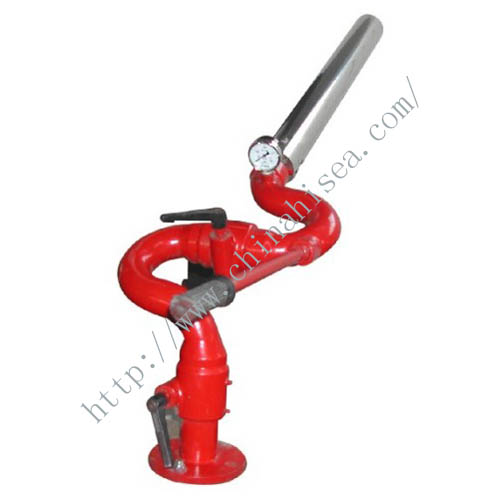 Air foam fire monitor PP32C
Air foam fire monitor PP32C:
Air foam fire monitor PP32Cis used to extinguish the fire in long distance. the foam shut out can eliminate fire accidents cause by A/B/C type of liquid, it also can be used to spray water to eliminate fire caused by solid material.
Air-foam Fire Monitor is useful to produce and spray foam to extinguish the long distance fires caused by class A,B and C liquids or spray water to extinguish the long distance fires caused by solid materials.
Type PP32Cmarine Fire Monitors are not only suitable for petrochemical works, oil storage tank areas, airports, warehouses, ports and docks, but also suitable for the installation such as ships, fixed platform on the sea and fire vehicles.
Type PP32CFire Monitor has only barrel. The barrel can not only spray foam but also spray water. Its control handle can make the Fire Monitor elevate, depress or rotate.
1.Service Area:
a.oil chemical factory, gas stock area, ware house,
b.used air pot, fire distinguish vehicle, marine ship etc.,
2.Feature:
3.Operation and Maintenance
a.Fire Monitor should be put into operation within the operating range of service
pressure allowed.
b.Fire Monitor should be inspected regularly to be in good condition and flexibility
for operation .The fixed accessories should be repaired immediately when it is found to be loosen or out of sharp .Make it sure that the Fire Monitor is always in good operation conditions .
c. The rotary valve on the Fire Monitor should be open and close within the range of
service pressure allowed to prevent the rotary valve and sealing pieces from damaging or being out of shape.
d.Spray some water for a while after operation every time, and then draw off the
water out of the Fire Monitor completely .Pay more attentions that there is no water saved in he Fire Monitor especially in cold districts in winter.
e.Clean water should be used to prevent the rotary valve from damaging and prevent
the Fire Monitor from stopping up.
f.Lubricating grease should be added to the rotating place regularly to ensure the
Fire Monitor can rotate flexibly.
g.It is forbidden to stand before the muzzle of Fire Monitor while spraying.
h.Fire Monitor can not be applied to quell a fire caused by electric installations to
avoid electric shocking.
i.Quick taken off waterproof cover can be covered on the Fire Monitor ordinarily.
4.Specification
Type

PP24C

PP32C

Rated work pressure (Mpa)

0.5~1

Max pressure (Mpa)

1

Shoot distance

Water

45m

>50m

Foam

40m

>45m

Speed

Water

24L/S

32L/Minute

Foam

24L/S

32L/Minute
5. Packing
After inspection, products are carefully packed in wooden case or carefully packed in Carton.
6. Shipping
a.EMS, DHL, TNT, UPS 2-5 working days
b. International air mail: around 5-15 working days
c. By sea: around 10-25 working days
7. Payment
a.Western Union
b. Bank Transfer
c. Letter of Credit
8.Service
Quality can be guaranteed. If the products can not meet your satisfaction, except OEM or ODM products, the products can be returned at freight prepaid.
9.About us
We have nearly 20 years experience on valves exporting. We are a professional Chinese supplier and have own factories to meet customized production.
10.Primary competitive advantages:
Brand-name Parts
Country of Origin
Guarantee/Warranty
International Approvals
Packaging
Price
Product Features
Product Performance
Prompt Delivery
Quality Approvals
11. Main Export Markets:
Eastern Europe
North America
Mid East/Africa
Central/SouthAmerica
Asia