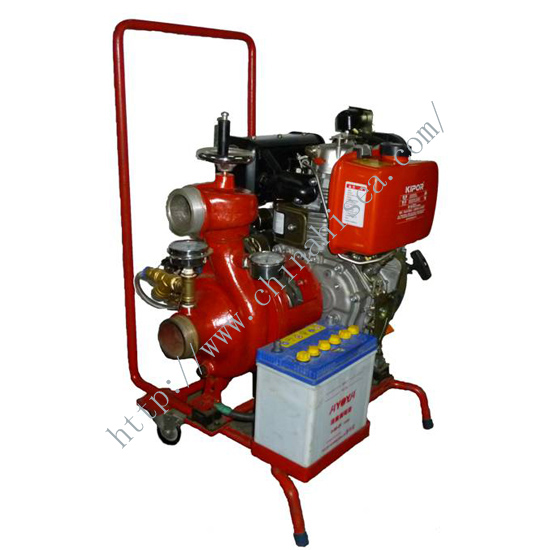 CWY Marine Diesel Emergency Fire Pump
CWY Marine Diesel Emergency Fire Pump:
Overview
1. CWY Series Marine Diesel Emergency Fire Pump
CWY marine diesel emergency fire pump, its structure is divided into fixed and mobile two. Fixed type import and export for the flange connection or threaded connection, the base for the steel structure frame, or leg
fixed trolley frame; mobile for the import and export of pipe thread connection, fixed on a trolley frame. The pump is mainly used in no power under the conditions of the emergency fire pump, but also applies to civil, industrial and mining enterprises, port and dock, storage yard. The pump has the advantages of light weight, small size, flexible movement, rapid starting, water fast time, fuel tank Flow, corrosion resistance, reliable use, convenient maintenance and so on. In allowing the use of the battery, the unit can be installed and used battery starting device.
2. CWYG Series Max suction head Marine Diesel Emergency Fire Pump
CWYG high-suction marine diesel emergency fire pump, water for hose connection, straw bottom of relay pump through a flexible shaft coupling, transmission torque, and fire pump used in Series, to enhance the absorption process, the highest suction Head of up to 15-20m.
Note: the diesel engine high pressure oil pipe can be installed protective sleeve and oil leakage prevention device, or a remote control system, in order to separate indication.
Model Explanation 65CWY(G)-40
65-Inlet diameter 65 mm
CWY-Marine diesel emergency fire pump
G-Max suction head type
40-Head 40m
Performance Parameter
Type

Capacity
Head
Speed
Absorb height
Max suction head
Efficiency
Water time
(m3/h)
(m)
(rpm)
(m)
m
(%)
(S)
65CWY(G)-30
25
30
3600
5~6
6~15
63
≤35
65CWY(G)-40
30
40
3600
6~7
7~15
65
≤35
80CWY(G)-55
60
55
3600
6~7
7~15
68
≤35
80CWY(G)-60
50
60
3600
6~7
7~15
66
≤35
80CWY(G)-70
60
70
3000
4~5
5~15
44
≤100
100CWY(G)-45
100
45
3000
4~5
5~15
48
≤100
100CWY(G)-70
90
70
3000
4~5
5~15
50
≤100
150CWY(G)-55
160
55
3000
4~5
5~15
54
≤100