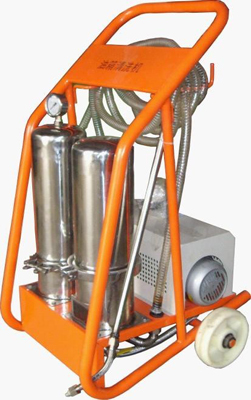 Diesel Tank Cleaning Machine
Diesel tank cleaning machine is designed for automotive diesel fuel tank cleaning dirt. The dirty can be clean in one time, filter out impurities and water quality, filtration efficiency reached 90%. Cleaning, using circular filtering method, you can no longer crack unloading tank, do not add any chemical reagents, than the loss of diesel fuel tank in the case of a diesel tank will be cleaned.
Methods of operation:
1.direct cyclic cleaning method:
1) Would be an appropriate point of bent heads, through the partition hole on the side of
cavity inserts;

2) Would be drawn tubing inserted in the tank and cleaning the lowest point or side-angle
hole cavity;

3) Connected to the power will be transferred to switch Shun turn, that is, the normal
cleaning washing machine direction;

4) Hand-held boom with a nozzle spray tank walls and corners key Method
2. Emptying Circulation cleaning

1) Will be a clean vessel into the fuel tank below to open the mailbox at the bottom of oil
discharge screw, diesel full release.

2) Will take the oil pipeline into the container, the injection tube into mailbox.
3) Connected to the power will be transferred to switch Shun turn.

4) Back and forth moving fuel injection dry, dry the bottom of the fuel injection nozzle is fully clean every corner of the fuel tank, focusing on cleaning the fuel tank walls and corners.
Main Parameters:
Power:550W
Voltage: 220V/50HZ
Size: 650*510*800mm
Heating power: 2kw