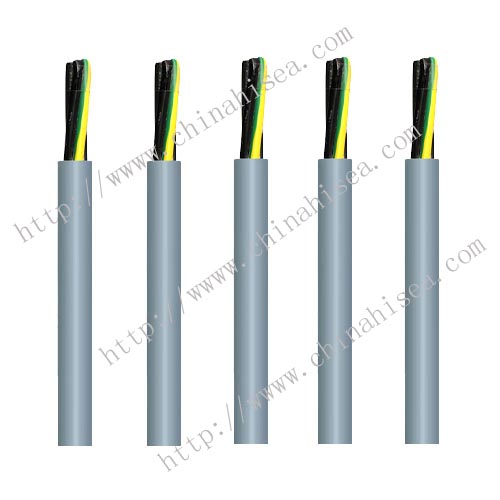 Flexible PUR unshield control cable
Flexible PUR unshield control cable application
Flexible PUR unshield control cable used in industrial automation, control systems and other mechanical and electrical equipment electrical connections installed. PUR outer sheath makes the cable section applies to its harsh industrial environments and corrosive coolants and lubricants occasions, has excellent oil resistance, abrasion resistance, anti-microbial, anti-hydrolysis, chemical resistant, protective cable damage from mechanical stress. When the external electromagnetic interference,we recommend to use shielded cable.
Flexible PUR unshield control cable Characteristics
1)Operating voltage: 300/500V
2)Test voltage: 1500V
3)Insulation resistance: ≥ 20MΩ/km (20 ℃)
4)Minimum bending radius: Mobile installation: about 13 x D (Cable OD)
Fixed installation: about 8 x D (Cable OD)
5)Working temperature: -30 ° C to move the installation to +70 ° C
Fixed installation -40 ° C to +80 ° C
7)Fire performance: compliance with VDE 0472 - 804 Class B portion of the test standards, and IEC 60332-1
8)CE certified
Flexible PUR unshield control cable Construction
Conductor
Fine strands of bare copper wire, comply with VDE0295, 5 class conductor
Insulation
special PVC composite material
Core
Core stranding, core colors conform VDE 0293
JZ black cores with white numbers coded yellow and green wires
JB cores with yellow-green color wire
OZ black wire white digital coding without yellow and green wires
OB colored yellow and green wire without wire
Outer sheath
PUR specially mixed material
Outer sheath color
black and gray
Flexible PUR unshield control cable Specification
| | |
| --- | --- |
| Conductor Cross-Section area(mm2) | Cable Cores |
| 0.5 ~ 2.5 | 2 ~ 25 |
| 4 ~ 16 | 4 ~ 7 |
| 25 ~ 35 | 4 |
Noted:Other specification can be produced as per customer required.
Flexible PUR unshield control cable Show