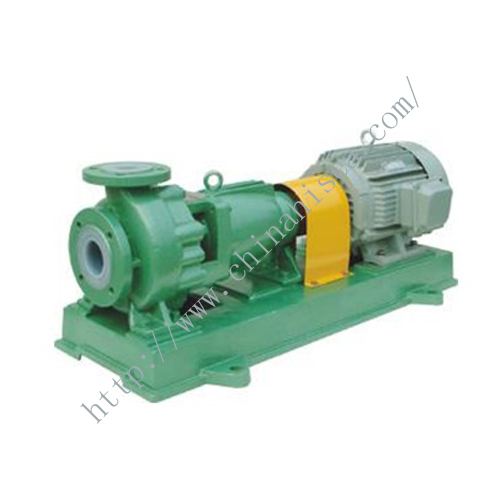 IHF Fluoro Plastic Chemical Pump
IHF fluoroplastic chemical pump:
Product Overview
The IHF Series are single-stage, single suction and fluorplastic Alloy centrifugal pumps. They are designed according to international standards. The pump has a corrosion-resistant, wear-resistant, high temperature resistant, non-aging, high mechanical strength, non-toxic decomposition, the use of the advantages of wide temperature. The pump body is made by metal housing and FEP (F46) lining, pump cover, impeller and shaft sleeve are made by integrated sintering and pressure molding of metal insert and Fluor plastic housing, shaft seal is sealed by external bellow mechanical seal.
Product Trait
The pump is widely used with the chemical, pharmaceutical, petroleum, metallurgy, electricity, electroplating, pickling, pesticide, paper and other industries in the liquid delivery, wastewater treatment and processing acids, etc. process.
This pump can be used in transporting harsh and strong erosive medium of any density such as vitriol, hydrochloric, organic dissolvent, corrosion medium and reducing agent etc. It is one of the latest erosion proof Equipment in the world.
Product Application
IHF fluoroplastic alloy pump has advanced and logical structure, reliable sealing performance, , stable operation, low noise and long life-span. The medium temperature: -85℃~200℃, flux 1.75-200m3/h Outlet pressure4.5-87mrotate speed: 1450-2900r/min.
Type

Speed n=2900 r/min

Speed n=1450 r/min

Capacity
( m3/h)

Head
m

Motor power
Kw

NPSH r(m)

Efficiency (%)

Capacitym3/h

Head
m

Motor power
Kw

NPSH r (m)

Efficiency(%)

IHF50-32-125

12.5

20

2.2

3.0

51

6.3

5

0.55

3.0

45

IHF50-32-160

12.5

32

4

3.0

46

6.3

8

0.55

3.0

40

IHF50-32-200

12.5

50

7.5

3.0

39

6.3

12.5

1.1

3.0

33

IHF65-50-125

25

20

3

3.5

62

12.5

5

0.55

3.5

55

IHF65-50-160

25

32

5.5

3.5

57

12.5

8

1.1

3.5

51

IHF65-40-200

25

50

11

3.5

52

12.5

12.5

1.5

3.5

46

IHF65-40-250

25

80

18.5

3.5

50

12.5

20

3

3.5

43

IHF80-65-125

50

20

5.5

4.0

69

25

5

1.1

4.0

64

IHF80-65-160

50

32

11

4.0

67

25

8

1.5

4.0

62

IHF80-50-200

50

50

15

4.0

63

25

12.5

2.2

4.0

57

IHF80-50-250

50

80

30

4.0

66

25

20

5.5

4.0

51

IHF100-80-125

100

20

11

4.5

77

50

5

1.5

4.5

74

IHF100-80-160

100

32

15

4.5

73

50

8

2.2

4.5

69

IHF100-65-200

100

50

30

4.5

73

50

12.5

5.5

4.5

68

IHF125-80-160

160

32

30

5.0

70

80

8

5.5

5.0

74

IHF125-100-200

200

50

55

5.0

65

100

12.5

11

5.0

71