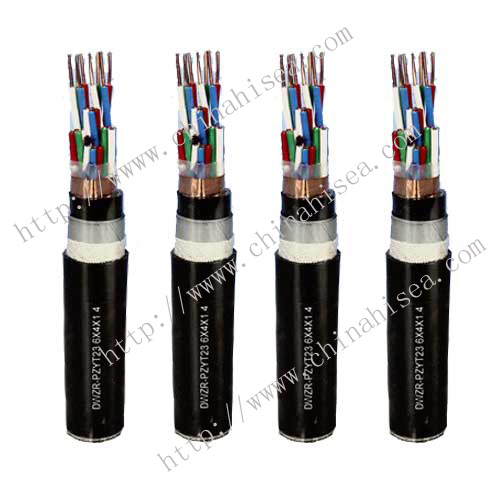 Foam PE insulated metro communication cable
Foam PE insulated metro communication cable application
This cable is Copper core foam polyethylene insulated aluminum sheath halogen-free flame retardant outer sheath Metro Route communication cable.
This product is mainly intended for Metro Main Line communication with strong moisture-proof function, strong electromagnetic interference, halogen-free flame retardant characteristics. Mainly for the transmission of audio, 150Hz and below the analog signal, this condition can also be used to transmit 2048Kbit / s digital signals.
Foam PE insulated metro communication cable features
(1) the use of foam polyethylene insulation structure, reducing the dielectric constant of the insulation layer
(2) a cable components used quads structure to ensure stable transmission performance
(3) triple moisture-proof structure, with excellent moisture resistance.
(4) the use of copper conduct electric and magnetic shield, to ensure shielding coefficient is less than 0.2, with strong electromagnetic interference; decay constant ≤ 6.7dB/km (150kHz).
(5) outer sheath with non-toxic, low smoke, flame retardant characteristics, flame retardant performance to IEC332 standards, minimum transmittance ≥ 60%.
Foam PE insulated metro communication cable model and spec
Model

Spec

Name

WDZC-HEYFAPT23
25*4*0.7
Copper core foam polyethylene insulated aluminum sheath halogen-free flame retardant outer sheath Metro Route communication cable
50*4*0.7
Foam PE insulated metro communication cable electrical performance
Number

Item

Measure unit

Indicator

1

Conductive core downstream resistance 20 ℃

Ω.km

≤48

2

Working wire and Two-wire DC resistance unbalance

%

1.5

3

Insulation resistance of each wire to other cores (with shielded metal sleeve connection)80~200V(100~500V )

MΩ.km

≥5000

4

Insulation electric strength (50Hz 2min) MΩ.km

All cores together on Shield and sleeve Core to core

V

2000   1000

5

Wire pair working capacitance (0.8~10kHz) Max.

pF/km

39

6

Capacitive coupling coefficientK1 (0.8~10kHz) Average Maximum

pF/500m

≤81 ≤330

7

Capacitive coupling coefficientK9 (0.8~10kHz) Average Maximum

pF/500m

≤168 ≤472

8

Ground capacitance unbalancee1、e2 (0.8~10kHz) Average Maximum

pF/500m

≤330 ≤1294

9

Cable working frequency shielding factor (30~150V)

-

≤0.4

10

the near-end crosstalk attenuation between loop 1024kHz M-S

-

≥53dB

11

Attenuation constant20 ℃ 150 kHz AVG

dB/km

≤6.7

12

Shielded aluminum, copper continuity

-

Yes

13

Mixed core wire, broken

-

No mixed No broken
Foam PE insulation metal sheathed symmetrical communication cable show