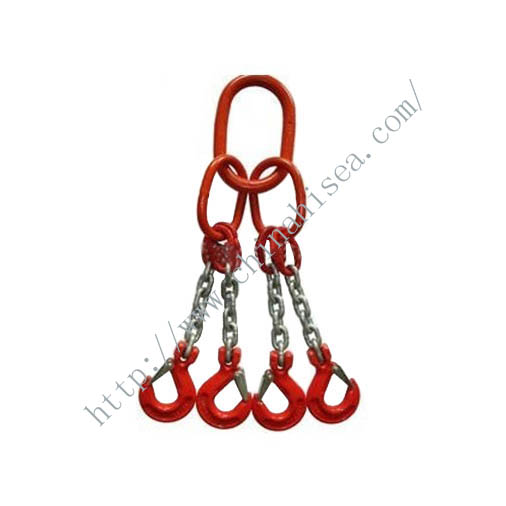 Four Legs Chain Sling with Hooks
Four Legs Chain Sling with Hooks
Product name:
Four Legs Chain Sling with Hooks
Structure:
Combined Chain
Material:
Alloy
Color:
red or as requirement
1 G80 CHAIN AND G80 rigging parts
2 High temperature-proof, durable and easy to install
3 Single,double,three leg,four leg

1. Chains sling is a lifting chain is widely used in steel factories, steel pipe factories, petrol pipe installing companies, construction site, wharf and dock etc, loading and unloading goods.
2. Chain sling easy to use can fit all kinds of lifting Equipment.
3. The outstanding advantage is to resist abrasion, resisting high temperature, resisting erodibility, low elongation

Take care to use as below:
-Do check the condition of the riggings before each load
-Do check the chain legs are not twisted
-Do check that the load is on the centre of the hook and not on the tip.
rated load
single leg
double legs
three legs
four legs
chain
hook
chain
hook
chain
hook
chain
hook
t
mm
t
mm
t
mm
t
mm
t
1
8x24
1
8x24
1
2
10x30
2
8x24
1
8x24
1
8x24
1
3
10x30
3.2
10x30
2
8x24
1
8x24
1
5
14x50
5
10x30
3.2
10x30
2
10x30
2
8
15x54
8
14x50
5
10x30
3.2
10x30
3.2
10
18x54
10
14x50
5
14x50
5
14x50
5
12.5
22x86
15
18x54
8
14x50
5
14x50
5
15
22x86
15
18x54
10
18x54
8
18x54
8
20
26x92
20
22x86
11
18x54
10
18x54
10
25
22x86
15
18x54
11
18x54
11
30
22x86
20
22x86
15
22x86
15