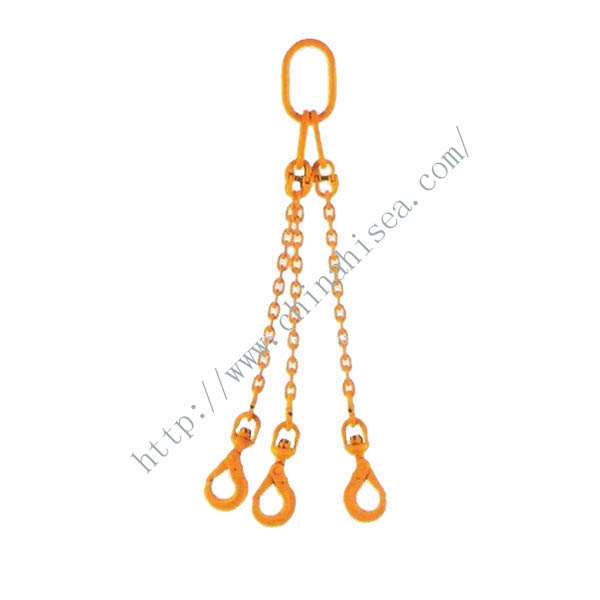 G80 Chain Sling
G80 Chain Sling
Product name:
G80 Chain Sling
Material:
Alloy steel
Specifications:
1) Standard: EUROPEAN TYPE, US TYPE, DIN TYPE, JIS TYPE
2) Grade: G100 G80 G70 G43
3) Material:alloy steel, carbon steel, EN1677 material, stainless steel.
4) Surface Treatment:color-painted,self-colored, polished, hot dipped galvanized, electro galvanized.
5) Process:drop forged, heat treatment
6) Specification:6MM 7/8MM 10MM 13MM 16MM 18/20MM 22MM 26MM 32MM
7) Packing: packed in cartons with plastic bags inside then on iron pallets.
8) Sprcial specification and marks can be made according to customer's requirement.
G80 Chain Sling
Chain diameter
Single leg
2 Legs
3-4Legs
Choker Endless Sling
0°<β≤45°
45°<β≤60°
0°<β≤45°
45°<β≤60°
mm
WLL kg
WLL kg
WLL kg
WLL kg
6
1120
1600
1120
2360
1700
1800
7
1500
2120
1500
3150
2240
2500
8
2000
2800
2000
4250
3000
3150
10
3150
4250
3150
6700
4750
5000
13
5300
7500
5300
11200
8000
8500
16
8000
11200
8000
17000
11800
12500
18
10000
14000
10000
21200
15000
16000
20
12500
17000
12500
26500
19000
20000
22
15000
21200
15000
31500
22400
23600
26
21200
30000
21200
45000
31500
33500
32
31500
45000
31500
67000
47500
50000
WLL according to EN818-4