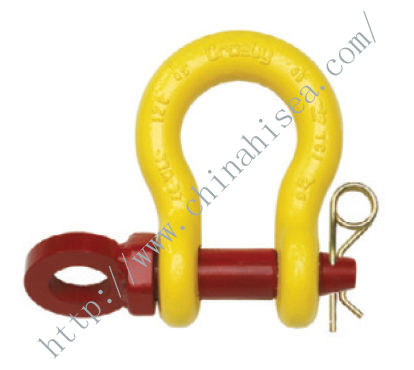 G-209R ROV Shackles
G-209R ROV Shackles
Product Name:
G-209R ROV Shackles
Material:
Forged alloy steel
Spec:
• Capacities from 6-1/2t through 55t.
• Forged Steel, Quenched & Tempered, with alloy pins.
• Working Load Limit permanently shown on every shackle.
• Fatigue rated.
• Angle indicators forged on the bow.
• All ROV shackle bows are galvanized, then painted fluorescent yellow.
Technical Drawing For G-209R ROV Shackles: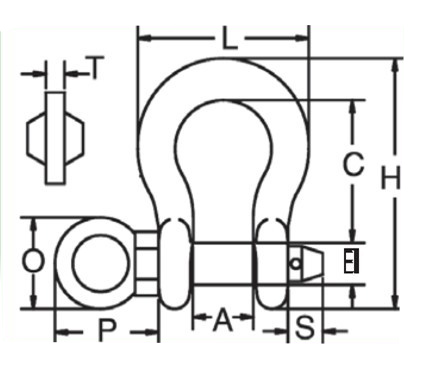 Technical Parameters For G-209R ROV Shackles:
Working Load Limit (t)*
G-209R Stock No.
Weight Each (kg)
Dimensions
(mm)
A
+/- 6.35
B
C
H
L
O
P
S
T
6-1/2
1020872
1.69
36.6
25.4
84
148
102
50
58
17
10
8-1/2
1020902
2.59
42.9
28.7
95.5
167
119
50
61
18
10
9-1/2
1020932
3.77
46
31.8
108
190
131
70
83
18
12
12
1020952
5.02
51.5
35.1
119
210
146
70
84
23
12
13-1/2
1020972
6.65
57
38.1
133
233
162
75
91
23
15
17
1020992
8.58
60.5
41.4
146
254
175
75
93
24
15
25
1021102
14.1
73
51
178
313
225
90
114
29
17.5
35
1021125
21.4
82.5
57
197
348
253
106
132
30
20
55
1021158
42.8
105
70
267
453
327
120
145
45
25
Note: Minimum Ultimate Load is 5 times the Working Load Limit
Contact Details:
Chongqing Hi-Sea Marine Equipment Import & Export Co.,Ltd
Address: F20-5, General Chamber of Commerce Building, No.2 Hongjin Street, Yubei District, Chongqing, China 401147
Tel: 02367503098 Mobile: +86 18702376890
QQ: 460912237 Skype: Emily.liu935
WebSite:www.chinahisea.com E-mail: hardware@hiseamarine.com