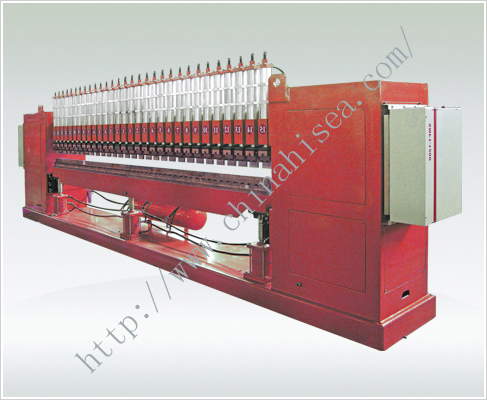 Gantry type row welding machine
Gantry type row welding machine HS-DNW3 series:
Contro system:
1.Microcomputer control, can store 15 groups of welding procedures, welding specifications can be easily and independently adjusted
2. Independent adjustment of single or multiple electrode welding parameters to achieve different specifications, the different shapes welding requirements.
3. Users can edit their own the cylinder action sequence and the cylinder moves the number and the corresponding welding specifications.
4. Large screen display.
5.Touch switches for data set and adjustment.
Aplication: welding of metal mesh, shelves, wire mesh fence, storage cage and other products
Specifications:
| | | | | | | | | | | | |
| --- | --- | --- | --- | --- | --- | --- | --- | --- | --- | --- | --- |
| Model | rated capacity | Rated voltage | rated frequency | Maximum short Road current | duty cycle | max pressure | Top electrode stroke | bottom electrode stroke | cooling water | Knife row width | Max effective Weld width |
| | KVA | V | Hz | A | % | N | mm | mm | L/min | mm | mm |
| HS-DNW3-2*100 | 2*100 | 380 | 50 | 30000 | 20 | 5315 | 60 | 40 | 6 | 90 | C(800-2000) |
| HS-DNW3-2*150 | 2*150 | 380 | 50 | 36000 | 20 | 5315 | 60 | 40 | 6 | 90 | C(800-2000) |
| HS-DNW3-2*200 | 2*200 | 380 | 50 | 42000 | 20 | 5315 | 60 | 40 | 6 | 90 | C(800-2000) |