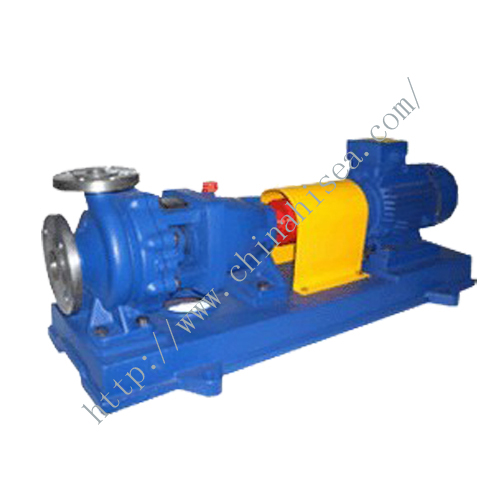 IR Heat Preservation Chemical Pump
IR heat preservation chemical pump:
Product Overview
The IR Series is single-stage, single suction, cantilever centrifugal pumps. It is designed according to the international standard ISO2858 and manufactured according to the international standardISO5199/DIS. It is the derive product based on IH chemical centrifugal pumps and the parts dimension has already achieved standard energy-saving, high efficiency products. It is mainly used in petrochemical industry, medicine, chemical fibre field, in which the liquor freezing point (crystal spot temperature) is high, has corrosion high temperature liquid.
Product Feature
This pump is suitable for the chemical medium that has freeze crystalline under normal temperature, the medium that the boil off spot need cooling and the high clod altiplano-zone. The temperature: -80~+250℃(crystal spot temperature) is high. It can transport the high freezing point, corrosion liquid.
Product Application
IR heat preservation pump's main flow part has hollow interlayer, and multi-cycle for transporting the steam, hot water, hot oil and soda pop. Heat preservation has a variety of ways with the heat preservation outside. The design pressure: 1.6Mpa, the medium temperature: T≤250℃, flux: 3.4~460m3/h, outlet pressure: H=3.6~132m, rotate speed: 1450-2900r/min.
Type

Inlet←

Outlet→

Capacity

Head

Motor

Impeeler Diametermm

Inlet-Outlet-Impeller (mm)(mm)(mm)

mm

mm

(m3/h)

(m)

Speed r/min

Power P

IR50-32-125

50

32

12.5

20

2900

2.2

125

IR50-32-125

50

32

6.3

5

1450

0.55

125

IR50-32-160

50

32

12.5

32

2900

3

160

IH50-32-160

50

32

6.3

8

1450

0.55

160

IR50-32-200

50

32

12.5

50

2900

5.5

200

IR50-32-200

50

32

6.3

12.5

1450

0.75

200

IR50-32-250

50

32

12.5

80

2900

11

250

IR50-32-250

50

32

6.3

20

1450

1.5

250

IR65-50-125

65

50

25

20

2900

3

125

IR65-50-125

65

50

12.5

5

1450

0.55

125

IR65-50-160

65

50

25

32

2900

5.5

160

IR65-50-160

65

50

12.5

8

1450

0.75

160

IR65-40-200

65

40

25

50

2900

11

200

IR65-40-200

65

40

12.5

12.5

1450

1.1

200

IR65-40-250

65

40

25

80

2900

15

250

IR65-40-250

65

40

12.5

20

1450

2.2

250

IR65-40-315

65

40

25

125

2900

30

315

IR65-40-315

65

40

12.5

32

1450

4

315

IR80-65-125

80

65

50

20

2900

5.5

125

IR80-65-125

80

65

25

5

1450

0.75

125

IR80-65-160

80

65

50

32

2900

7.5

160

IR80-65-160

80

65

25

8

1450

1.1

160

IR80-50-200

80

50

50

50

2900

15

200

IR80-50-200

80

50

25

12.5

1450

2.2

200

IR80-50-250

80

50

50

80

2900

30

250

IR80-50-250

80

50

25

20

1450

4

250

IR80-50-315

80

50

50

125

2900

45

315

IR80-50-315

80

50

25

32

1450

5.5

315

IR100-80-125

100

80

100

20

2900

11

125

IR100-80-125

100

80

50

5

1450

1.5

125

IR100-80-160

100

80

100

32

2900

15

160

IR100-80-160

100

80

50

8

1450

2.2

160

IR100-65-200

100

65

100

50

2900

30

200

IR100-65-200

100

65

50

12.5

1450

4

200

IR100-65-250

100

65

100

80

2900

45

250

IR100-65-250

100

65

50

20

1450

5.5

250

IR100-65-315

100

65

100

125

2900

75

315

IR100-65-315

100

65

50

32

1450

11

315

IR125-100-200

125

100

200

50

2900

45

200

IR125-100-200

125

100

100

12.5

1450

7.5

200

IR125-100-250

125

100

200

80

2900

75

250

IR125-100-250

125

100

100

20

1450

11

250

IR125-100-315

125

100

200

125

2900

110

315

IR125-100-315

125

100

100

32

1450

18.5

315

IR125-100-400

125

100

100

50

1450

30

400

IR150-125-250

150

125

200

20

1450

18.5

250

IR150-125-315

150

125

200

32

1450

30

315

IR150-125-400

150

125

200

50

1450

55

400

IR200-150-250

200

150

400

20

1450

37

250

IR200-150-315

200

150

400

32

1450

55

315

IR200-150-400

200

150

400

50

1450

90

400

IR250-200-315

250

200

550

32

1450

75

315

IR250-200-450

250

200

600

60

1450

160

450