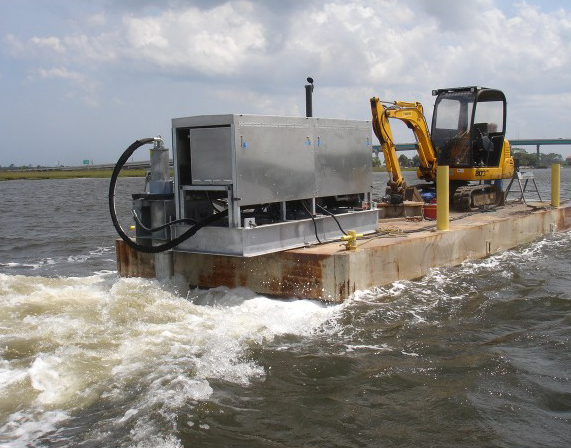 Hydraulic Rudder Propeller
Propulsion units are self-contained thruster packages for main propulsion and positioning of barges, platforms and river craft. Hydraulic Rudder Propeller with diesel or electric hydraulic drives with power ratings from 50HP to 500HP. Conversion from a simple barge or unpowered vessel can be done in as little as a few hours to less than a week without modifying the hull. The hydraulic drive is especially suited for shallow, brown water applications where debris in the water or shallow bottoms can be a problem.
The hydraulic drive provides fully proportional propeller speed control in forward and reverse while the engine runs at constant speed. Many options are available, including hydraulic kick-up of the outdrive, hydraulic propeller depth adjustment, remote control panels, choice of engines, etc.
The mini-skid and transom-mount styles separate the engine and transmission unit from the lower unit and allow remote mounting of the engine, either above or below deck in any convenient space. Short runs can be made with flexible hydraulic hose while long runs can be piped with standard marine hydraulic plumbing options.
Model

Power Rating

(HP)

Dia of propeller

(mm)

Thrust

(t)

HP50

0-50

620

0-0.7

HP100

50-100

830

1-1.4

HP200

100-200

950

1.5-3.2

HP300

200-300

1000

3.4-4.4

HP400

300-400

1180

4.7-6.2

HP500

400-500

1300

6.5-7.7