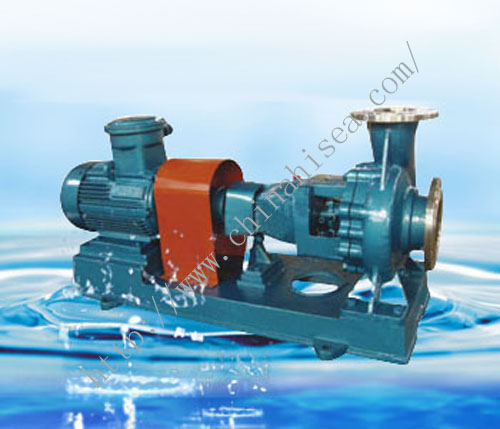 IHK/HKG Chemical Pump
IHK/HKG Chemical Pump:
Product Overview
IHK(G)series (starch pump、high-temp slurry feed pump ) is the series of single-stage single-suction cantilever-type centrifugal pump. After absorbing the foreign advanced technology, according to the deign of international standard ISO2858 and manufacturing acc to ISO5199/DIS, our company upgrading and innovating this standard industrial pump on the basic of IH series pump. It is the derived product of IH series chemical centrifugal pump. The dimensions of the components are all already realized the standard energy efficient products and welcomed by the customers.
Product Feature
This pump is applicable to chemical, petroleum, metallurgy, pharmaceutical, distillery, power generation, food, environmental protection and harsh environment of bad working conditions.
Product Application
This pump's feature is especially particular, 6 sets of the form of sealed structure, three kinds of bearing box cooling method, two kinds of impeller forms, reliability, strong, good interchangeability. Capacity:3.4~460m3/h, Head:3.6~132m, Speed:1450-2900r/min.
Type型号

Inhlet进口←

Outlet出口→

Capacity流量

Head扬程

Motor配用电机

Impeller Diameter叶轮直径mm

Inlet进口-Outlet出口-Impeller叶轮(mm)(mm)(mm)

mm

mm

(m3/h)

(m)

Speed转速r/min

Power功率P

IHK50-32-125

50

32

12.5

20

2900

2.2

125

IHK50-32-125

50

32

6.3

5

1450

0.55

125

IHK50-32-160

50

32

12.5

32

2900

3

160

IHK50-32-160

50

32

6.3

8

1450

0.55

160

IHK50-32-200

50

32

12.5

50

2900

5.5

200

IHK50-32-200

50

32

6.3

12.5

1450

0.75

200

IHK50-32-250

50

32

12.5

80

2900

11

250

IHK50-32-250

50

32

6.3

20

1450

1.5

250

IHK65-50-125

65

50

25

20

2900

3

125

IHK65-50-125

65

50

12.5

5

1450

0.55

125

IHK65-50-160

65

50

25

32

2900

5.5

160

IHK65-50-160

65

50

12.5

8

1450

0.75

160

IHK65-40-200

65

40

25

50

2900

11

200

IHK65-40-200

65

40

12.5

12.5

1450

1.1

200

IHK65-40-250

65

40

25

80

2900

15

250

IHK65-40-250

65

40

12.5

20

1450

2.2

250

IHK65-40-315

65

40

25

125

2900

30

315

IHK65-40-315

65

40

12.5

32

1450

4

315

IHK80-65-125

80

65

50

20

2900

5.5

125

IHK80-65-125

80

65

25

5

1450

0.75

125

IHK80-65-160

80

65

50

32

2900

7.5

160

IHK80-65-160

80

65

25

8

1450

1.1

160

IHK80-50-200

80

50

50

50

2900

15

200

IHK80-50-200

80

50

25

12.5

1450

2.2

200

IHK80-50-250

80

50

50

80

2900

30

250

IHK80-50-250

80

50

25

20

1450

4

250

IHK80-50-315

80

50

50

125

2900

45

315

IHK80-50-315

80

50

25

32

1450

5.5

315

IHK100-80-125

100

80

100

20

2900

11

125

IHK100-80-125

100

80

50

5

1450

1.5

125

IHK100-80-160

100

80

100

32

2900

15

160

IHK100-80-160

100

80

50

8

1450

2.2

160

IHK100-65-200

100

65

100

50

2900

30

200

IHK100-65-200

100

65

50

12.5

1450

4

200

IHK100-65-250

100

65

100

80

2900

45

250

IHK100-65-250

100

65

50

20

1450

5.5

250

IHK100-65-315

100

65

100

125

2900

75

315

IHK100-65-315

100

65

50

32

1450

11

315

IHK125-100-200

125

100

200

50

2900

45

200

IHK125-100-200

125

100

100

12.5

1450

7.5

200

IHK125-100-250

125

100

200

80

2900

75

250

IHK125-100-250

125

100

100

20

1450

11

250

IHK125-100-315

125

100

200

125

2900

110

315

IHK125-100-315

125

100

100

32

1450

18.5

315

IHK125-100-400

125

100

100

50

1450

30

400

IHK150-125-250

150

125

200

20

1450

18.5

250

IHK150-125-315

150

125

200

32

1450

30

315

IHK150-125-400

150

125

200

50

1450

55

400

IHK200-150-250

200

150

400

20

1450

37

250

IHK200-150-315

200

150

400

32

1450

55

315

IHK200-150-400

200

150

400

50

1450

90

400

IHK250-200-315

250

200

550

32

1450

75

315

IHK250-200-450

250

200

600

60

1450

160

450