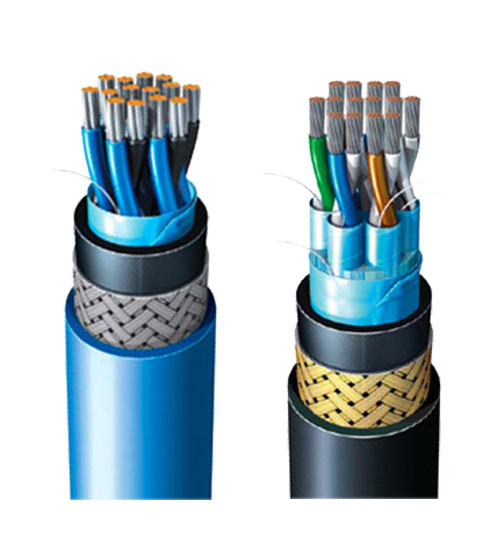 BFOU(c) S4 offshore communication cable
BFOU(c) S4 offshore communication cable
BFOU(c) S4 offshore communication cable application
This cable is mainly intended for communication,instrumentation and alarm system for offshore units,exclude for mud condition.
BFOU(c) S4 offshore communication cable Standards
IEC 60092-376
IEC 60092-351
IEC 60092-359
IEC 60331-21
IEC 60332-1
IEC 60332-3-2
IEC 60754-1,2
IEC 61034-1,2
NEK 606:2004
BFOU(c) S4 offshore communication cable Construction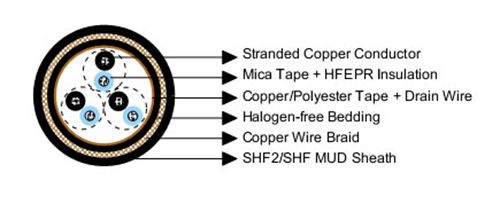 Conductors: Circular tinned annealed stranded copper wire to IEC 60228 class 2.
Insulation:Mica tape + Halogen free EPR compound.
Twinning: Colour coded cores twisted together.
Collective Shielding: Pairs/triples are layed up and collectively screened by copper backed polyester tape in contact with a stranded tinned copper drain wire. Pairs/triples are numbered with numbered tape or by numbers printed directly on the insulated conductors.
Bedding:Halogen free compound.
Armour:Tinned copper wire braid.
Outer Sheath:Halogen free thermosetting compound, SHF2 (for TYPE S4). Halogen free MUD resistant thermosetting compound, SHF MUD (for TYPE S4/S8), coloured grey (blue for intrinsically safe).
BFOU(c) S4 Halogen free flame retardant mud resistant offshore power cable Main Parameter
Maximum conductor temperature:+90℃
Rated Voltage:250v
Tested Voltage:1.5kv/5min
Flame spread test on bunched cable:Category A
Smoke density of finished cable:≥60%
Bending radius : 8 × OD ( installing ); 6 × OD ( fixed installation )
BFOU(c) S4 offshore communication cable electrical characteristics
Nominal Cross-section

mm²

0.75

1.0

1.5

2.5

Nominal Conductor Diameter

mm

1.1

1.3

1.6

2.0

Max.Resistance@20℃

Ω/km

26.3

19.3

12.9

8.02

Mutal Capacitance

nF/km

75

80

85

95

Nominal inductance

@1KHz

MH/km

0.727

0.686

0.667

0.623

Max. L/R@1KHz

µH/Ω

20

25

35

55

Working Voltage

V

250

250

250

250
BFOU(c) S4 offshore communication cable Show