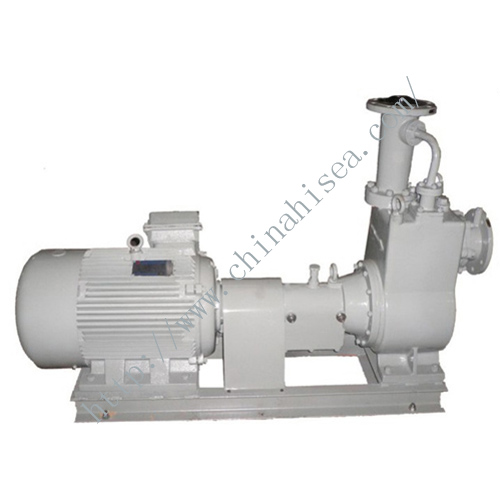 CYZ horizontal oil pump
Marine Centrifugal Pump :
Relevant model, CLV, CLH, CLZ, CWL, CWZ, CBZ, CLN, etc.. We will elect the suitable model according your require.
CYZ Series marine horizontal self-priming centrifugal oil pump are used at boats and ships transport petrochemicals such as petrol, coal oil and diesel oil. The temperature of medium can be between 20 degrees below zero and 80 degrees. This series pump is a high quality marine cargo oil pump, it also be suitable oil transport to the land oil tanker and oil tanker car and so on. It is able to carry seawater and fresh water less than 80 degrees. When used corrosion resisting mechanical seal, it can transport chemical liquid.
The pump rotates anticlockwise viewed from motor.
Type meaning
150 CYZ-65
150--Inlet diameter
CYZ--Series marine horizontal self-priming centifugal oil pump
65--Head(m)
1. Main technical parameterParameters in case of power supply frequency of 50Hz
Type
(50Hz 3φ 380V) Main technical parameter
Motor type & powerkW
WeightKg
Capacitym3/h
Headm
Speedr/min
NPSHrm
Shaft power kW
40CYZ-20
6.3
20
2900
3.5
0.8
Y802-2H 1.1
40CYZ-25
6.3
25
2900
3.5
1.07
Y90S-2H 1.5
40CYZ-32
6.3
32
2900
3.5
1.48
Y90L-2H 2.2
40CYZ-40
6.3
40
2900
3.5
1.96
Y100L-2H 3
50CYZ-25
12.5
25
2900
3.5
1.7
Y90L-2H 2.2
50CYZ-32
12.5
32
2900
3.5
2.37
Y100L-2H 3
50CYZ-40
12.5
40
2900
3.5
3.16
Y112M-2H 4
50CYZ-50
12.5
50
2900
3.5
4.15
Y132S1-2H 5.5
65CYZ-25
25
25
2900
4
2.79
Y112M-2H 4
65CYZ-32
25
32
2900
4
3.75
Y132S1-2H 5.5
65CYZ-40
25
40
2900
4
4.87
Y132S1-2H 5.5
65CYZ-50
25
50
2900
4
6.55
Y132S2-2H 7.5
65CYZ-63
25
63
2900
4
8.76
Y160M1-2H 11
80CYZ-25
50
25
2900
4
5.2
Y132S2-2H 7.5
80CYZ-32
50
32
2900
4
6.77
Y160M1-2H 11
80CYZ-40
50
40
2900
4
8.59
Y160M1-2H 11
80CYZ-50
50
50
2900
4
11.27
Y160M2-2H 15
80CYZ-63
50
63
2900
4
14.7
Y160L-2H 18.5
80CYZ-80
50
80
2900
4
19.32
Y180M-2H 22
100CYZ-40
100
40
2900
4
16.27
Y160L-2H 18.5
100CYZ-50
100
50
2900
4
20.65
Y200L1-2H 30
100CYZ-65
100
65
2900
4
27.23
Y200L1-2H 30
185
100CYZ-80
100
80
2900
4
34.61
Y200L2-2H 30
150CYZ-50
200
50
1450
5
42.59
Y250M-4H 55
150CYZ-63
200
63
1450
5
57.24
Y280S-4H 75
150CYZ-80
200
80
1450
5
72.68
Y280M-4H 90
200CYZ-50
400
50
1450
5
76.71
Y280M-4H 90
200CYZ-63
400
63
1450
5
99.45
Y315S-4H 110
200CYZ-80
400
80
1450
5
130.06
Y315L1-4H 160
2.Parameters in case of power supply frequency of 60Hz
Type
60Hz 3φ 440V) Main technical parameter
Motor type & powerkW
WeightKg
Capacitym3/h
Headm
Speedr/min
NPSHrm
Shaft power kW
40CYZ1-20
7.6
28.8
3500
3.8
1.38
Y90L-2H 2.2
40CYZ1-25
7.6
36
3500
3.8
1.85
Y100L-2H 3
40CYZ1-32
7.6
46
3500
3.8
2.66
Y112M-2H 4
40CYZ1-40
7. 6
57.6
3500
3.8
3.39
Y112M-2H 4
50CYZ1-25
15
36
3500
3.8
2.93
Y112M-2H 4
50CYZ1-32
15
46
3500
3.8
4.1
Y132S1-2H 5.5
50CYZ1-40
15
57.6
3500
3.8
5.46
Y132S2-2H 7.5
50CYZ1-50
15
72
3500
3.8
7.17
Y160M1-2H 11
65CYZ1-25
30
36
3500
5
4.82
Y132S1-2H 5.5
65CYZ1-32
30
46
3500
5
6.48
Y132S2-2H 7.5
65CYZ1-40
30
57.6
3500
5
8.42
Y160M1-2H 11
65CYZ1-50
30
72
3500
5
11.3
Y160M2-2H 15
65CYZ1-63
30
90.7
3500
5
15.1
Y160L-2H 18.5
80CYZ1-25
60
36
3500
5
9.1
Y160M1-2H 11
80CYZ1-32
60
46
3500
5
11.7
Y160M2-2H 15
80CYZ1-40
60
57.6
3500
5
14.8
Y160L-2H 18.5
80CYZ1-50
60
72
3500
5
19.5
Y180M-2H 22
80CYZ1-63
60
90.7
3500
5
25.4
Y200L1-2H 30
80CYZ1-80
60
115.2
3500
5
33.4
Y225M-2H 45
100CYZ1-40
120
57.6
3500
5
28.1
Y200L2-2H 37
100CYZ1-50
120
72
3500
5
35.7
Y225M-2H 45
100CYZ1-65
120
93.6
3500
5
47.1
Y250M-2H 55
185
100CYZ1-80
120
115.2
3500
5
59.8
Y280S-2H 75
150CYZ1-50
240
72
1750
6
73.6
Y280M-4H 90
150CYZ1-63
240
90.7
1750
6
98.9
Y315S-4H 110
150CYZ1-80
240
115.2
1750
6
125.6
Y315L1-4H 160
200CYZ1-50
480
72
1750
6
132.5
Y315L1-4H 160
200CYZ1-63
480
90.7
1750
6
171.8
Y315L2-4H 200
200CYZ1-80
480
115.2
1750
6
224.7
Y355L1-4H 280