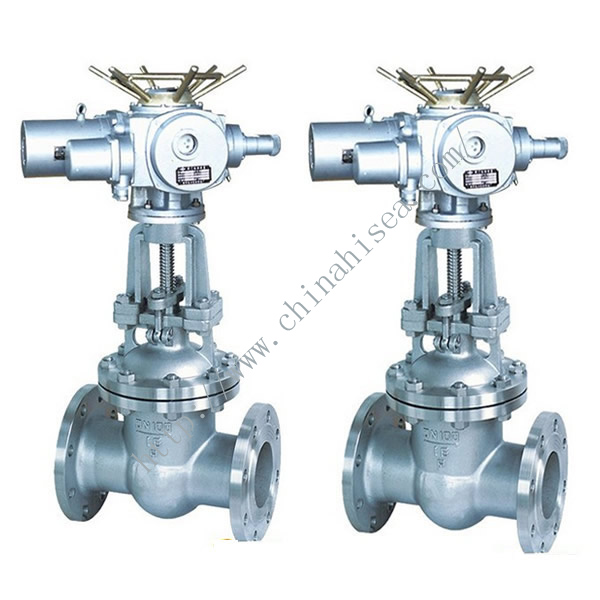 Electric Control Gate Valve
Electric Control Gate Valve:
1. Product Detailed Information:
(1). Nominal Pressure: 1.6 Mpa - 16.0 Mpa
(2). Working Temperature: -29 degree - 550 degree
(3). Usage Field: Petroleum, chemical industry, water system, gas system etc
(4). Application: Water, oil, steam and acid alkali ammonia urea sulfur gas etc
(5). Operating Mode: Manual, Gear Drive, Electric, Pneumatic etc
2. Standard:
(1). Structure Length: GB/T12221
(2). Flange Size: JB79
(3). Check and Test: JB/T9092
(4). Carbon Steel: JB/T12229
(5). Stainless Steel: GB/T12230
(6). Standard: GB/T12220
(7). Supply: GB/T7928
(8). Design and Manufacture: GB/T12234
3. Structure and Feature:
(1). Standard Product, Select Good Quality Raw Material
(2). Good in Sealing, 100% No Leakage
(3). Reliable sealing, high hardness abrasion resistant to high temperature and corrosion resistance, to abrasion performance, Long lifetime
(4). Flange Connection, Adopt standard flange and pipeline connection.
4. Electric Control Gate Valve Specifications: (See the Chart)
Nominal Pressure
PN(MPa)

Nominal Diameter
DN(mm)

Standard

Actuator Model

L

D

D1

D2

D6

b

f

f1

Z-φd

1.6

50

250

160

125

100

 

16

3

 

4-φ18

DZWl0A

65

265

180

145

120

 

18

3

 

4-φ18

DZWl5A

80

280

195

160

135

 

20

3

 

8-φ18

DZW20A

100

300

215

180

155

 

20

3

 

8-φ18

DZW20A

150

350

280

240

210

 

24

3

 

8-φ23

DZW20A

200

400

335

295

265

 

26

3

 

12-φ23

DZW30A

250

450

405

355

320

 

30

3

 

12-φ25

DZW45A

300

500

460

410

375

 

30

4

 

12-φ25

DZW60

350

550

520

470

435

 

34

4

 

16-φ25

DZW90

400

600

580

525

485

 

36

4

 

16-φ30

DZWl20

450

650

640

585

545

 

40

4

 

20-φ30

DZWl80

500

700

705

650

608

 

44

4

 

20-φ34

DZW250

600

800

840

770

718

 

48

5

 

20-φ41

DZW250

2.5

50

250

160

125

100

 

20

3

4-φ18

DZWl0A

65

265

180

145

120

 

22

3

4-φ18

DZWl5A

80

280

195

160

135

 

22

3

8-φ18

DZW20A

100

300

230

190

160

 

24

3

8-φ23

DZW20A

150

350

300

250

218

 

30

3

 

8-φ25

DZW30A

200

400

360

310

278

 

34

3

 

12-φ25

DZW30A

250

450

425

370

332

 

36

3

 

12-φ30

DZW45A

300

500

485

430

390

 

40

4

16-φ30

DZW60A

350

550

550

490

448

 

44

4

16-φ34

DZW90

400

600

610

550

505

 

48

4

 

16-φ34

DZWl20

450

650

660

600

555

 

50

4

 

20-φ34

DZWl20

500

700

730

660

610

 

52

4

 

20-φ41

DZWl80

600

800

840

770

718

 

56

5

 

20-φ41

DZW250

4.0

50

250

160

125

100

88

20

3

4

4-φ18

DZWl0A

65

280

180

145

120

110

22

3

4

8-φ18

DZWl5A

80

310

195

160

135

12l

22

3

4

8-φ18

DZW20A

100

350

230

190

160

150

24

3

4.5

8-φ23

DZW20A

150

450

300

250

218

204

30

3

4.5

8-φ25

DZW30A

200

550

375

320

282

260

38

3

4.5

12-φ30

DZW45A

250

650

445

385

345

313

42

3

4.5

12-φ34

DZW60A

300

750

510

450

408

364

46

4

4.5

16-φ34

DZW90

350

850

570

510

465

422

50

4

5

16-φ41

DZWl20

400

950

655

585

535

474

58

4

5

20-φ4l

DZWl80

500

1150

755

670

612

576

62

4

5

20-φ4l

DZW250
Electric Control Gate Valve Working Theory Picture: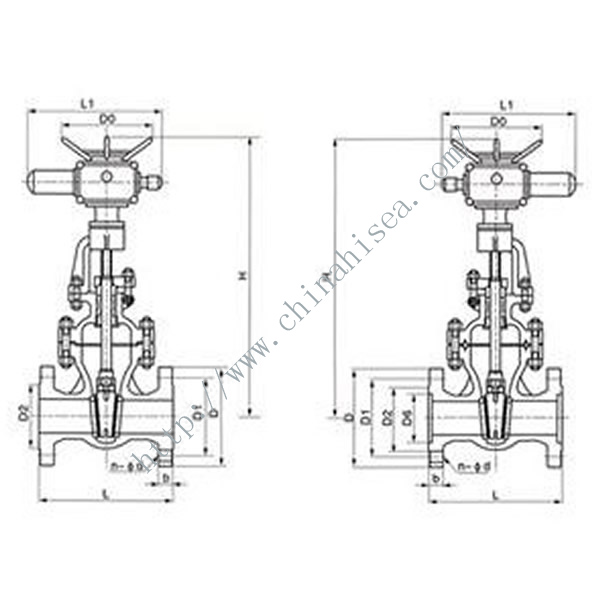 Electric Control Gate Valve Sample in Factory Picture: