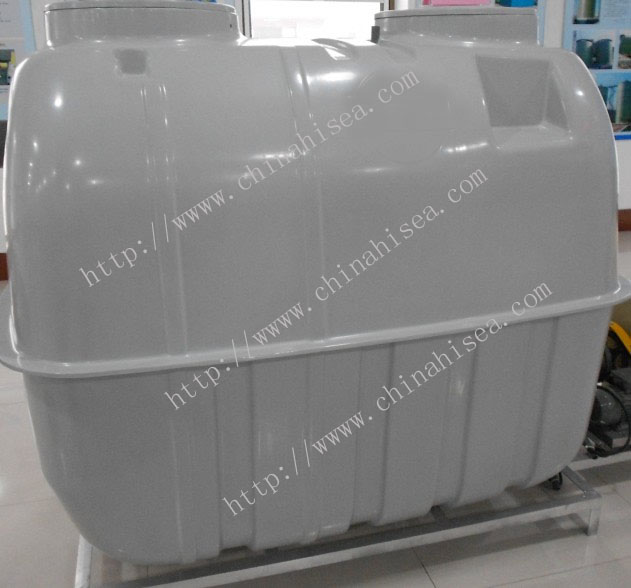 FRP Clarification Tank
FRP Clarification Tank
Features of FRP Clarification Tank:
Specializing in clarification of domestic sewage;
Integrated structure with light weight;
Corrosion resistance and water resistance;
Easy installation and maintenance;
Lower operation costs;
Less floor area occupation;
Applicable to hotels, restaurants, shopping malls, offices, hospitals, apartments, villas, residential communities, bathing houses, etc;
BOD of the water after treatment: < 20ppm;
Elimination rate: >90%;
Structure of FRP Clarification Tank:
∨

∨

∨

∨

∨

Inlet pipe

First chamber of anaerobic filter bed tank

Second chamber of anaerobic filter bed tank

Aeration tank

Settling tank

Disinfecting tank

Outlet pipe

Sludge separation and transfer pipe

Air diffusing pipe

Reflux pipe

Disinfecting tube
Working Process of FRP Clarification Tank:
1. Anaerobic filter bed tank: separating and eliminating the seston while decomposing the organisms in the sewage with the anaerobes attached to the filter media;
2. Aeration tank: decomposing the organisms with the aerobes attached to the stuffing while the treated sewage from the anaerobic filter bed tank entering and cycling in the stuffing tank;
3. Settling tank: separating and removing the settled sludge while the clarified water in the upper part flowing into the disinfecting tank;
4. Disinfecting tank: the clarified water from the settling tank flowing out of the outlet after having been disinfected by contacting the solid chlorine in the disinfecting tank.
Specifications of FRP Clarification Tank:
Model

FCT-7

FCT-10

Treatment Capacity

7 Persons

10 Persons

Identification No.

90-1E-006-2

90-1E-006-4

Vol. (m3)

First chamber of anaerobic filter bed tank

1.431

2.264

Second chamber of anaerobic filter bed tank

0.926

1.311

Aeration tank

1.429

2.026

Settling tank

0.475

0.717

Disinfecting tank

0.018

0.022

Total Vol.

4.279

6.340

Dimensions (mm)

A: Length

2850

2990

B: Width

1370

1640

C: Height

1805

2035

D: Inlet pipe

245

245

E: Outlet pipe

395

395

F: WorkingPort

500

600

G:WorkingPort

500

500

H:WorkingPort

600

600

Weight(Kg)

270

400

Air Compressor

Power Supply

Single Phase 220-240V 50Hz

Single Phase 220-240V 50Hz

Power

88W

95W

Air Supply

75L/Minute

100L/Minute

L x W x H (mm)

262×202×213

293×200×227
Pictures of FRP Clarification Tank: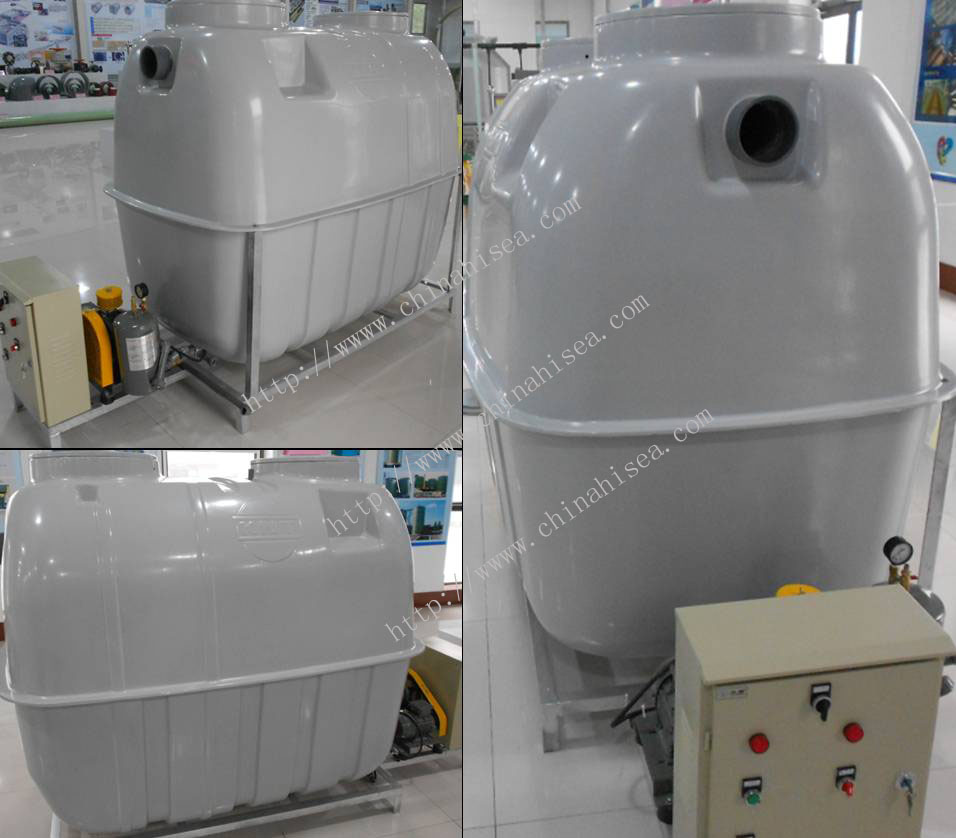 FRP Clarification Tank - Different Views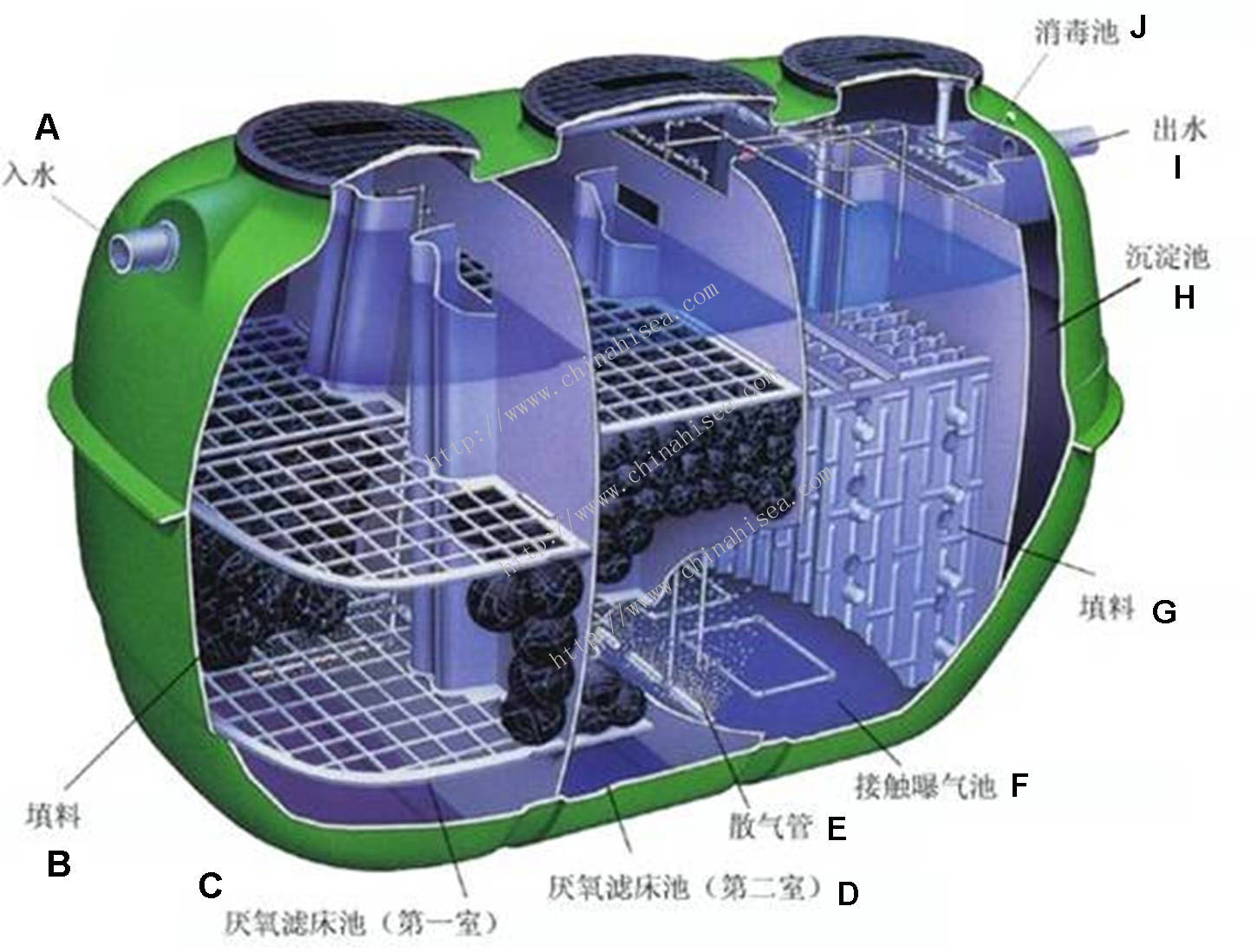 FRP Clarification Tank Structure
| | |
| --- | --- |
| A | Inlet pipe |
| B | Stuffing |
| C | First chamber of anaerobic filter bed tank |
| D | Second chamber of anaerobic filter bed tank |
| E | Air diffusing pipe |
| F | Aeration tank |
| G | Stuffing |
| H | Settling tank |
| I | Outlet pipe |
| J | Disinfecting tank |
(For more information, you are always welcome to contact us at any time in any of the following ways.)
---------------------------------
Contact:
Aiphen ZHANG - Sales Manager
Chongqing Hi-Sea Marine Equipment Import & Export Co., Ltd.
Add.: Unit 20-5, Building of Chongqing General Chamber of Commerce, No.2, Hongjin St., Yubei Dist., Chongqing 401147, China
T: +86-23-67500186 F: +86-23-67955123
E: oildept@hiseamarine.com