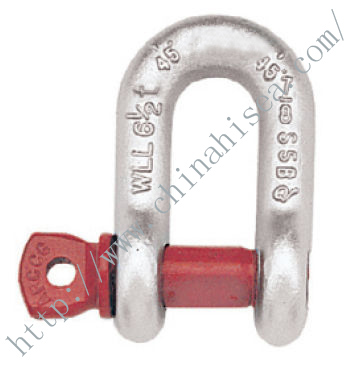 G-210 / S-210 Screw Pin Chain Shackles
G-210 / S-210 Screw Pin Chain Shackles
Product Name:
G-210 / S-210 Screw Pin Chain Shackles
Material:
Forged Alloy Steel
Spec:
• Capacities 1/3 thru 55 metric tons, grade 6.
• Forged - Quenched and Tempered, with alloy pins.
• Working Load Limit and grade "6" permanently shown on every shackle.
• Hot Dip galvanized or Self Colored.
• Fatigue rated.
• Shackles can be furnished proof tested with certificates to designated standards,such as ABS, DNV, Lloyds, or other certification. Charges for proof testing and certification available when requested at the time of order.
• Approved for use at -40 degree C (-40 degree F) to 204 degree C (400 degree F).
• Shackles are Quenched and Tempered and can meet DNV impact requirements of
42 joules (31 ft. Ibs.) at -20 degree C (-4 degree F).
Technical Drawing For G-210 / S-210 Screw Pin Chain Shackles: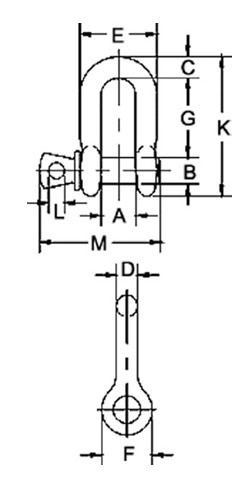 Technical Parameters For G-210 / S-210 Screw Pin Chain Shackles:
Nominal Size (in.)
Working Load Limit (t)*
Stock No.
Weight Each (kg)
Dimensions
Tolerance
(mm)
+ / -
G-210
S-210
A
B
C
D
E
F
G
K
L
M
G
A
1/4
1/2
1019150
1019169
0.05
11.9
7.85
6.35
6.35
24.6
15.5
22.4
40.4
4.85
35.1
1.5
1.5
5/16
3/4
1019178
1019187
0.08
13.5
9.65
7.85
7.85
29.5
19.1
26.2
48.5
5.6
42.2
1.5
1.5
3/8
1
1019196
1019203
0.13
16.8
11.2
9.65
9.65
35.8
23.1
31.8
58.5
6.35
51.5
3.3
1.5
7/16
1-1/2
1019212
1019221
0.2
19.1
12.7
11.2
11.2
41.4
26.9
36.6
67.5
7.85
60.5
3.3
1.5
1/2
2
1019230
1019249
0.27
20.6
16
12.7
12.7
46
30.2
41.4
77
9.65
68.5
3.3
1.5
5/8
3-1/4
1019258
1019267
0.57
26.9
19.1
15.7
16
58.5
38.1
51
95.5
11.2
85
3.3
1.5
3/4
4-3/4
1019276
1019285
1.2
31.8
22.4
20.6
19.1
70
46
60.5
115
12.7
101
6.35
1.5
7/8
6-1/2
1019294
1019301
1.43
36.6
25.4
24.6
22.4
81
53
71.5
135
12.7
114
6.35
1.5
1
8-1/2
1019310
1019329
2.15
42.9
28.7
25.4
25.4
93.5
60.5
81
151
14.2
129
6.35
1.5
1-1/8
9-1/2
1019338
1019347
3.06
46
31.8
31.8
28.7
103
68.5
91
172
16
142
6.35
1.5
1-1/4
12
1019356
1019365
4.11
51.5
35.1
35.1
31.8
115
76
100
191
17.5
156
6.35
3.3
1-3/8
13-1/2
1019374
1019383
5.28
57
38.1
38.1
35.1
127
84
111
210
19.1
174
6.35
3.3
1-1/2
17
1019392
1019409
7.23
60.5
41.4
41.1
38.1
137
92
122
230
20.6
187
6.35
3.3
1-3/4
25
1019418
1019427
12.1
73
51
54
44.5
162
106
146
279
25.4
231
6.35
3.3
2
35
1019436
1019445
19.2
82.5
57
60
51
184
122
172
312
31
263
6.35
3.3
2-1/2
55
1019454
1019463
32.5
105
70
66.5
66.5
238
145
203
377
35.1
330
6.35
6.35
NOTE: Maximum Proof Load is 2.0 times the Working Load Limit. Minimum Ultimate Strength is 6 times the Working Load Limit
Contact Details:
Hardware Department
Chongqing Hi-Sea Marine Equipment Import & Export Co.,Ltd
Address: F20-5, General Chamber of Commerce Building, No.2 Hongjin Street, Yubei District, Chongqing, China 401147
Tel: 02367503098 Mobile: +86 18702376890
QQ: 460912237 Skype: Emily.liu935
WebSite:www.chinahisea.com E-mail: hardware@hiseamarine.com