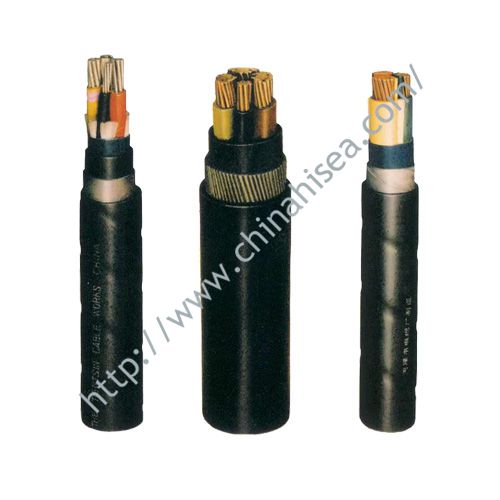 Mobile Underground Flexible cable
Mobile Underground Flexible cable
1.Standard MT818.5 1999
2.Use as power cable for all series coal mining underground Equipment rated voltages 0.38 0.66kv
3.long-term allowable working temperature of cable conductor to 65 ℃.
4.the minimum bend radius of the cable is 6 times the diameter of the wire.
If you feel this is not what you are looking for,please kindly check more Mobile cable here,also you can check more cable here,or you can use the search form on the upper right corner.
Cable Model
Model
Product Name
Application
MY-0.38/0.66
Mine Mobile Rubber Sheath Flexible Cable
Power Connection for Variety of underground mining equipment rated voltage 0.38/0.66kv

MYP-0.38/0.66
Mine Mobile Shield Rubber Sheath Flexible Cable
MYP-0.66/1.14
Mine Mobile Shield Rubber Sheath Flexible Cable

Power Connection for Variety of underground mining equipment rated voltage 0.66/1.14kv

Coal Mine Mobile Flexible Cable Specifications:
Single Core Cable Specifications:
Core Number*Conductor Nominal Section(mm2)
Nominal Thickness(mm)
Cable Outer Diameter(mm)
Power Core Insulator
Sheath
0.38/0.66kv
1*4
1.4
1.5
8.0~10.0
1*6
1.4
1.6
9.0~12.0
1*10
1.6
1.8
11.0~14.0
1*16
1.6
1.9
12.0~15.0
1*25
1.8
2.0
14.0~17.5
1*35
1.8
2.2
16.0~19.5
1*50
2.0
2.4
18.5~22.5
1*70
2.0
2.6
21.0~25.0
1*95
2.2
2.8
23.5~28.5
1*120
2.2
3.0
25.5~29.5
1*150
2.4
3.2
28.0~33.0
1*185
2.4
3.4
30.5~35.5
1*240
2.6
3.5
34.0~39.5
1*300
2.6
3.6
37.0~43.0
1*400
2.8
3.8
42.0~48.0
Rated Voltage 0.38/0.66kv Coal Movable Flexible Cable Specifications:
Core Number*Conductor Nominal Section
Nominal Thickness
Cable Outer Diameter
Power Core
Ground Core
Power Core Insulator
Sheath
Movable Flexible Cable
Movable Flexible ShieldedCable
3*4
1*4
1.4
3.5
19.0~22.5
22.0~26.5
3*6
1*6
1.4
3.5
21.0~25.5
24.0~29.0
3*10
1*10
1.6
4.0
25.0~30.0
28.0~32.5
3*16
1*10
1.6
4.0
27.5~32.0
30.5~35.5
3*25
1*16
1.8
4.5
32.5~37.5
35.5~41.0
3*35
1*16
1.8
4.5
35.5~41.0
38.5~44.5
3*50
1*16
2.0
5.0
41.5~47.5
44.5~51.0
3*70
1*25
2.0
5.0
46.0~53.0
49.0~56.0
3*95
1*25
2.2
5.5
52.5~59.5
55.0~63.0
3*120
1*35
2.2
5.5
56.0~63.5
59.0~67.0
3*150
1*50
2.4
6.0
62.5~70.5
65.5~74.0

Note:Ground Core Section is the minimum
20° C Insulator Resistance Minimum (MΩ.km)
| | |
| --- | --- |
| Power Core Nominal Section | 20° C Insulator Resistance Minimum (MΩ.km) |
| 4 | 600 |
| 6 | 450 |
| 10 | 400 |
| 16 | 350 |
| 25 | 300 |
| 35 | 250 |
| 50 | 250 |
| 70 | 200 |
| 95 | 200 |
| 120 | 200 |
| 150 | 180 |
| 185 | 180 |
| 240 | 160 |
| 300 | 140 |
| 400 | 140 |
Coal Mine Movable Flexible Cable Structure: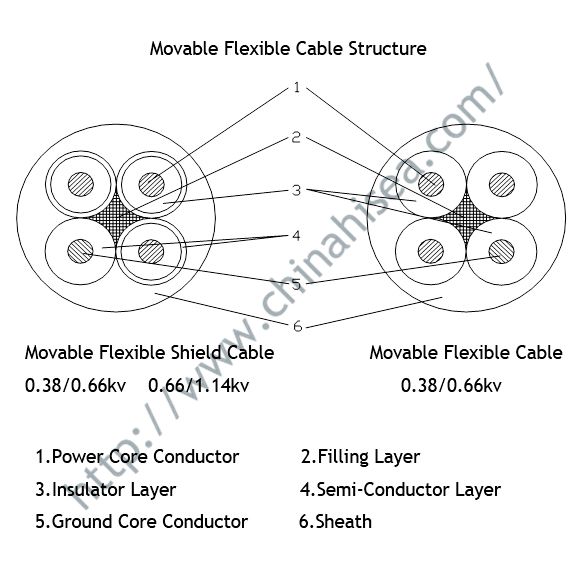 Coal Mine Movable Flexible Cable Show: