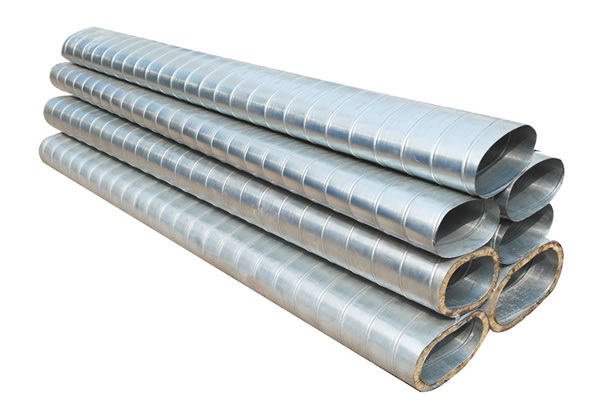 Oblate spiral duct
Description:
The oblate duct is mainly connecting air conditioner,The heat or cool water through it to get air conditioner to adjust the air flow or air temperature,to make indoor envrionment more comfortable,The spiral duct is installed in the end of air-conditioing system,It mainly used in marine or other bulidings such as hospital,airport,school,threater,and so on, Or anywhere need air ventilation.
The spiral duct is round shape,And be made of stainless steel ,It is more suitable for air conditioning than other material,It could be in high pressure and high velocity air distribution.
The duct mainly be installed on sidewall,Installed cost up to 50% less than traditional rectangular duct work,Vastly reduces air leakage and noise breakout,Reduces energy costs and simplifies air flow measurement.
Specification:
Thickness :Generally insulation thickness δ=12.55mm of duct is suitable for type AR<240,and insulation thickness δ=15mm is suitable for type 345
HVAC duct construction standards.
Diameter:125mm to 400mm.
Length:unlimited.
Insulation Material:Galvanized steel,Aluminum,mild steel,(CRCA),stainless steel,etc.
Surface constructions:plain or corrugated(to increase the rigidity of the ducting by 300%).
Available size:
Pre-heat:
Specification

Process circle dia.D

a

b

Wgt.kg/m

Int.dia.

Ext.dia.

AR100

125

150

75

154

2.1

AR125

150

175

90

184

2.52

AR150

175

200

100

218

3.07

AR160

190

215

115

233

3.30

AR175

215

240

125

266

3.55

AR200

250

275

140

312

4.18

AR230

250

275

150

307

4.19

AR240

275

300

150

346

5.03

AR250

300

325

150

386

5.26

AR270

325

350

150

425

5.69

AR300

360

385

200

465

6.31

AR345

400

425

200

514

6.70
non-heat:
Specification

Process circle

dia.D

a

b

Wgt.kg/m

BR100

125

75

154

4.35

BR125

150

90

184

4.78

BR150

175

100

218

6.57

BR160

190

115

233

6.80

BR175

215

125

266

7.32

BR200

250

140

312

8.40

BR230

250

150

307

8.38

BR240

275

150

346

10.06

BR250

300

150

386

10.94

BR270

325

150

425

11.82

BR300

360

200

465

13.05

BR345

400

200

514

16.93
Process drawing:
BR: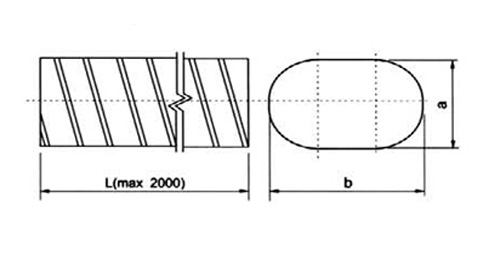 AR: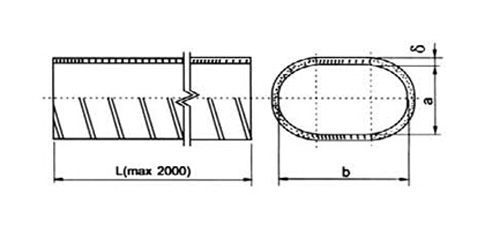 Oblate spiral duct: