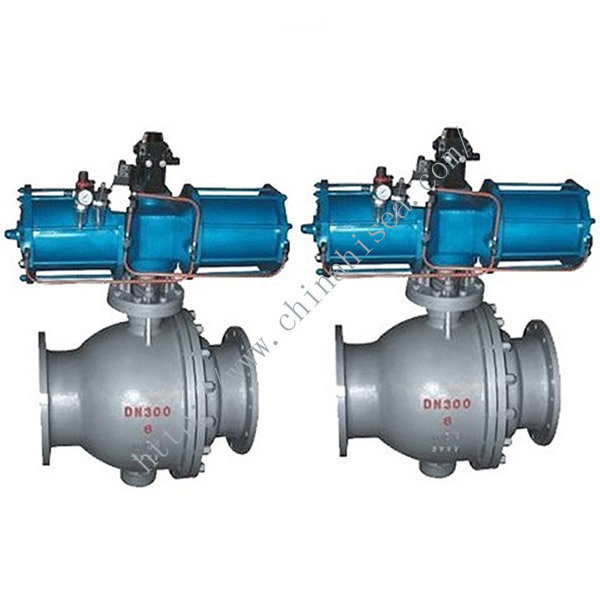 Pneumatic Dust Discharge Ball Valve
Pneumatic Dust Discharge Ball Valve:
1. Product Introduction:
(1). Model: Q647FM
(2). Pressure: 1.6 Mpa, 2.5 Mpa, 4.0 Mpa
(3). Application: Petrolem, Coal Mine, Mineral Exploiting, refining processing and pipeline system, in pharmaceutical chemical products and food production; In hydroelectric power production system in thermal power and nuclear power; In urban and industrial enterprise of water supply and drainage in heating and gas supply system; In the farmland irrigation and drainage systems; Widely used in metallurgical production system, is a kind of related to production of national defense construction and people's life important mechanical products.
2. GB Standard:
(1). Design Standard: GB/12237
(2). Structure, Length Standard: GB/12221
(3). Flange Connection: GB/12221
(4). Connection Flange Size: GB/9113, JB/T79
(5). Test and Check: JB/T9002
3. Valve Body: WCB
4. Q647FM Pneumatic Dust Discharge Ball Valve Specification (1.6Mpa)
Nominal Diameter DN

External Size

Connection Flange Size

Actuator

L

L1

H

D

D1

D2

C

f

N-φd

50

178

190

260

165

125

99

20

3

4-φ18

GTD83

65

190

210

293

185

145

118

20

3

4-φ18

GTD110

80

203

247

323

200

160

132

20

3

8-φ18

GTD110

100

229

276

382

220

180

156

22

3

8-φ18

GTD127

125

356

348

468

250

210

184

22

3

8-φ18

GTD160

150

394

378

510

285

240

211

24

3

8-φ22

GTD190

200

457

524

655

340

295

266

24

3

12-φ22

GTW190

250

533

645

847

405

355

319

26

3

12-φ22

AW20

300

610

715

980

460

410

370

28

4

12-φ22

AW25

350

686

795

1085

520

470

429

30

4

12-φ22

AW25

400

762

1860

1215

580

525

480

32

4

12-φ22

AW28

500

991

1860

1385

715

650

609

36

4

12-φ22

AW32
Q647FM Pneumatic Dust Discharge Ball Valve Specification (2.5 Mpa)
Nominal Diameter DN

External Size

Connection Flange Size

Actuator

L

L1

H

D

D1

D2

C

f

N-φd

50

216

210

270

165

125

99

20

3

4-φ18

GTD110

65

241

247

309

185

145

118

22

3

4-φ18

GTD110

80

283

276

344

200

160

132

24

3

8-φ18

GTD127

100

305

348

421

235

190

156

24

3

8-φ22

GTD160

125

381

378

485

270

220

184

26

3

8-φ26

GTD190

150

403

432

559

300

250

211

28

3

8-φ26

GTW190

200

502

524

655

360

310

274

30

3

12-φ26

AW20

250

568

648

847

425

370

330

32

3

12-φ30

AW20

300

648

715

980

485

430

389

34

4

16-φ30

AW25

350

762

795

1085

555

490

448

38

4

16-φ33

AW28

400

838

1860

1215

620

555

503

40

4

16-φ36

AW28

500

991

1860

1385

730

660

609

44

4

20-φ36

AW32
Q647FM Pneumatic Dust Discharge Ball Valve Specification(4.0MPa)
Nominal Diameter DN

External Size

Connection Flange Size

Actuator

L

L1

H

D

D1

D2

D3

C

f

N-φd

50

216

247

286

165

125

99

88×4

20

3

4-φ18

GTD110

65

241

276

330

185

145

118

110×4

22

3

8-φ18

GTD127

80

283

308

349

200

160

132

121×4

24

3

8-φ18

GTD160

100

305

348

421

235

190

156

150×4.5

24

3

8-φ22

GTD190

125

381

378

485

270

220

184

176×4.5

26

3

8-φ26

GTW190

150

403

524

582

300

250

211

204×4.5

28

3

8-φ26

AW20

200

502

648

702

375

320

284

260×4.5

34

3

12-φ30

AW25

250

568

715

895

450

385

345

313×4.5

38

3

12-φ33

AW25

300

648

795

1040

515

450

409

364×4.5

42

4

16-φ33

AW28

350

762

1860

1170

580

510

465

422×5

46

4

16-φ36

AW28

400

838

1860

1215

660

585

535

474×5

50

4

16-φ39

AW32

500

991

-

-

755

670

615

576×5

52

4

20-φ42

AW40
Pneumatic Dust Discharge Ball Valve Drawing Picture: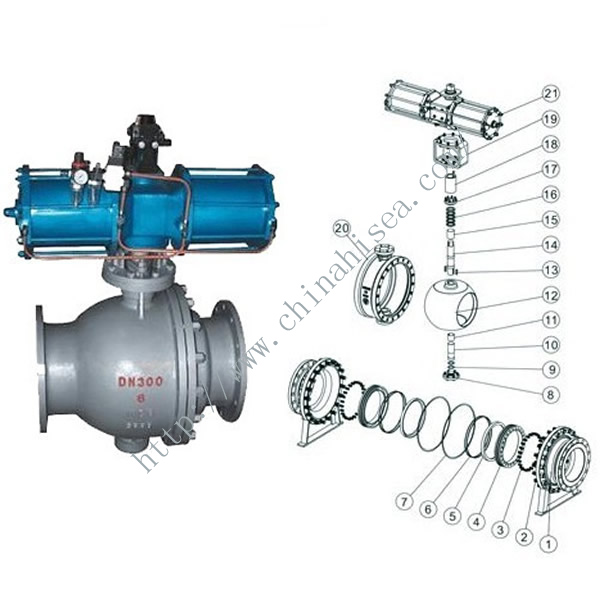 Pneumatic Dust Discharge Ball Valve Working Thoery Picture: