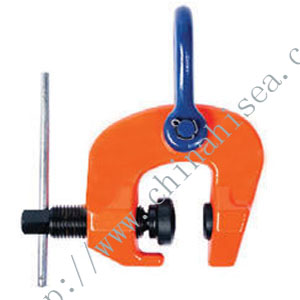 Screw Type Clamp
Screw Type Clamp
Product Name:
Screw Type Clamp
Material:
steel
Spec:
• Available in capacities of 1.5 and 3 metric tons.
• Jaw openings available: 0 to 50mm.
• Suitable for steel with a surface hardness up to 30 Rc.
• Forged alloy steel body for strength and smaller size. Forged alloy components, where required.
• Individually Proof Tested to 2 times the Working Load Limit with certification.
• Working Load Limit and jaw opening permanently stamped on body.
• Each product is individually serialized, with the serial number and Proof Load test date
stamped on body. Serial number is included on the test certificate with maintenance and
warranty logbook.
• Maintenance replacement parts are available.
• Manufactured by a ISO 9001 facility.
Application:
Suitable for use in positioning & turning of steel plates and sections.Not to be used as a lifting clamp.
Technical Drawing: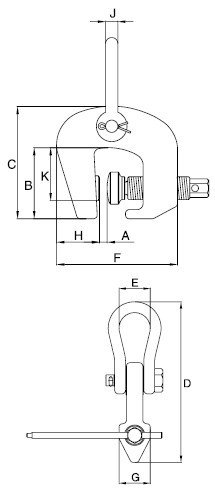 Parameters For Screw Type Clamp:
Model
Working Load Limit (t)*
IPSC Stock No.
Weight Each (kg.)
Dimensions
(mm)
Jaw A
B
C
D
E
F
G
H
J
K
IPSC01
1.5
2701640
4
0 - 32
91
143
229
45
154
46
52
16
52
IPSC02
3
2701641
6
0 - 50
105
165
265
50
190
54
59
19
60