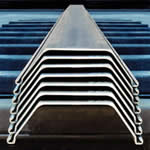 U Shaped Steel Sheet Pile
U Shaped Steel Sheet Piling:
We supply steel sheet piles with high quality and competitive prices.
Our steel sheet pile features high strength, light weight, good water-resisting performance and super durability.
It is mainly used in rescue and relief work, such as flood and landslide.
We can manufacture steel sheet piles according to GB, JISA and EN standard, which can meet the requests of international markets.
U Sheet Pile have many advantages as following:
1.It combines grest profile depth and has excellent statical properties
2.It is quite suitable for re-use due to the symmetrical form of the single element

3.It is possible to assemble the piles into pairs in the factory, this way could
improve the quality and performance of installation
4.Good corrosion resistanca performance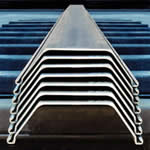 Specification of Steel Sheet Pile:
GB Standard SSP (Steel Sheet Pile)
SIZE
STANDARD
MATERIAL
LENGTH
400x85 - 750x225
GB/T 20933-2007
Q295bz Q390bz Q420bz
9M 12M 15M 18M
JISA Standard SSP (Steel Sheet Pile)
STANDARD
MATERIAL
LENGTH
JISA 5523 JISA5528
SYW295 SYW390 SY295 SY390
9M 12M 15M 18M
EN Standard SSP (Steel Sheet Pile)
SIZE
STANDARD
MATERIAL
LENGTH
A-series U-series AS-series
EN10248-1
S240GP S270GP S320GP S355GP S390GP S430GP S460GP
9M 12M 15M 18M
Equivalent to FSP, AZ, PU etc. Width: 400~750mm, Thickness:5~16mm; Section modulus:600~4600cm3/m
Top manufacturer of sheet pile in China!
U profile sheet pile
Z profile sheet pile
Straight web steel sheet pile
Full size of cold formed sheet pile;
Comply with EN10249!! Material: Q235B, Q345B,MDB350,MDB380.....
SECTION
TYPE
Width
Height
Thickness
Section
Weight
Weight
Moment of
Modulus of
w
h
t
Area
perpile
per wall
Inertia
Scetion
mm
mm
mm
cm2/m
kg/m
kg/m2
cm4/m
cm3/m
SLU5-1
600
150
9.5
119.7
56.4
94
3825
510
SLU5-2
600
150
10
126.1
59.4
99
4050
540
SLU6-1
600
280
6
90
42.2
70
8940
640
SLU7-1
600
300
6
93.4
44
73
9585
690
SLU7-2
600
340
6
98
46.2
77
11525
745
SLU7-3
600
360
6
99.6
46.9
78.2
11360
740