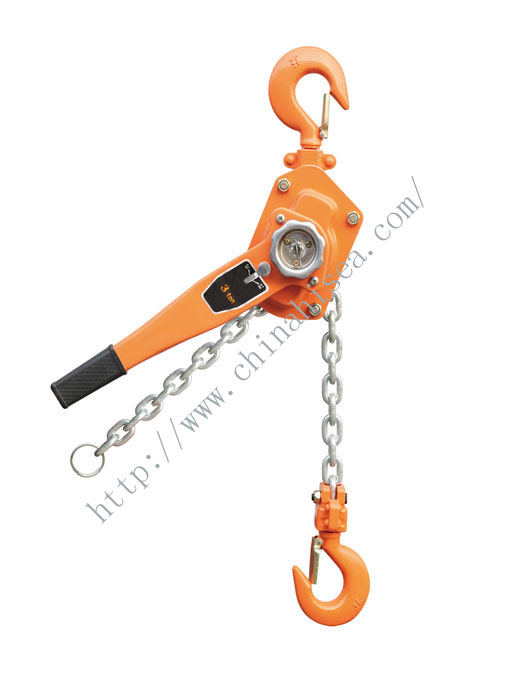 VA Type Lever Hoist
VA Type Lever Hoist
Product Name:
VA Type Lever Hoist
Material:
Steel
Spec:
Features:
1. The torntroller mechanism.
2. Quenched and Tempered hooks are safe even when accidentally overloaded.
3. Shock-resistant gear cover and brake cover locking out dust and rain.
4. Bolted rubber grip assures safe operation.
5. Extraordinary braking force, easy release, and the finest antirust treatment.
6. The brake mechanism is desighed to avoid seizing.
7. The chain stopper protects the body.
8. A special surface-treated, rust resistant load chain.
9. Super strong load chain for heavy duty use.
Application:
The rate lifting capacity of the endless chain lever block is 750kg, 1500kg, 3000kg, 6000kg and 9000kg. It is widely used to factories, mines, construction areas, docks and transport conditions. It is the ideal tool for equipment installation, object lifting, object fixing, banding and towing, especially suitable for towing of random angle, and working in scanty place, open air and place with no power supply.
Technical Drawing For VA Type Lever Hoist: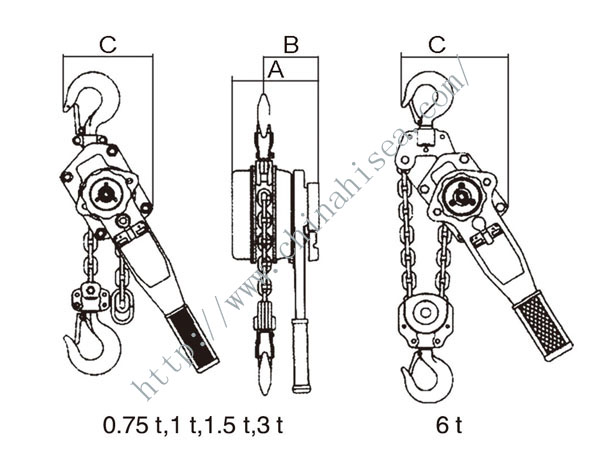 Parameters For VA Type Lever Hoist:
Model
Capacity(t)
Standard lift(m)
Running test load(t)
No. of falls of load chain
Load chain diameter(mm)
Dimensions(mm)
Net weight
(kg)
A
B
C
VA 0.5T
0.5
1.5
0.75
1
5
102
80
95
3.5
VA 0.75T
0.75
1.5
1.125
1
6
148
87.5
135
7
VA 1T
1
1.5
1.5
1
6
148
87.5
135
7.5
VA 1.5T
1.5
1.5
2.25
1
8
176
102
157
11
VA 2T
2
1.5
3
1
8
176
102
157
12
VA 3T
3
1.5
4.5
1
10
195
109
210
19
VA 6T
6
1.5
9.5
2
10
195
109
253
32