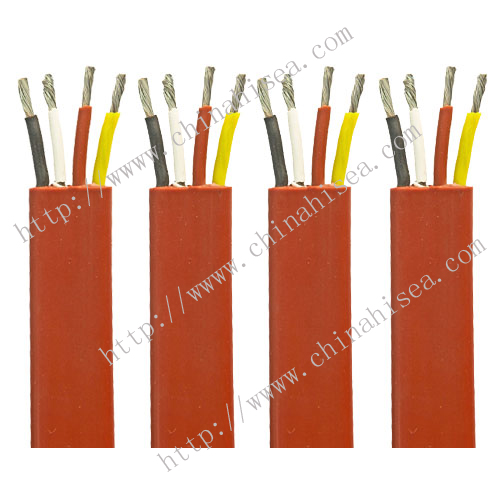 VDE H05SS-F/H05SST-F Heavy Cable
VDE H05SS-F/H05SST-F Heavy Cable Application
These cables EC heavy, tear-resistant black silicone multi-core cables, temperature up to 180 degrees Celsius, is mainly used for high or low temperatures, or ultraviolet region could cause damage. This cable meets EC standards, so they can be used in European countries markets. These cables are major steel mills, foundries, glass factories, baking equipment, burners, heating and lighting systems. High resistance to mechanical shock characteristics of this cable to apply to the lighting industry as a permanent mechanical protection of cables. Silicone rubber sheath, heat resistance, chemical resistance, oil, acid. Not suitable for outdoor use.
VDE H05SS-F/H05SST-F Heavy Cable Standards and Certification
HD 22.15 S1, Part 15 VDE-0282, VDE-0250 Part 816 (N2MH2G), CE Low Voltage Directive 72/23/EEC & 93/68/EEC, ROHS certification
VDE H05SS-F/H05SST-F Heavy Cable structure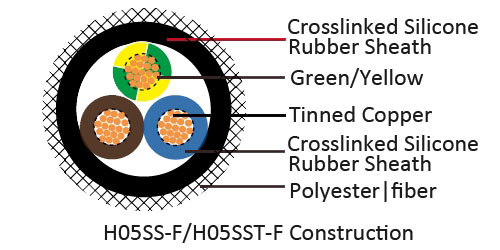 - Flexible tinned stranded copper conductors
- Follow VDE-0295 Cl-5, IEC 60228 Cl-5
- EI 2 crosslinked silicone rubber insulation
- Color coded to VDE-0293-308
- EM 9 crosslinked silicone rubber outer sheath - Black
- Polyester fiber woven (only for H05SST-F)
VDE H05SS-F/H05SST-F Heavy Cable Technical characteristics
- Operating voltage: 300/500V
- Test voltage: 2000V
- Dynamic bending radius: 7.5 ×?
- Static bending radius: 4 ×?
- Operating temperature range: -60 ° C to +180 ° C
- Short circuit temperature: 220 ° C
- Flame retardant: IEC 60332 -1
- Insulation resistance: 200 MΩ x km
- Halogen: IEC 60754-1
- Low Smoke: IEC 60754-2
VDE H05SS-F/H05SST-F Heavy Cable Specification
Gauge

Core x Conductor are

a # x mm2

Nominal Insulation Thickness

mm

Nominal Sheath Thickness

mm

Nominal O.D.

mm

Nominal Copper Weight

kg/km

Copper Cable Weight

kg/km

H05SS-F

18(24/32)

2×0.75

0.6

0.8

6.2

14.4

59.0

18(24/32)

3×0.75

0.6

0.9

6.8

21.6

71.0

18(24/32)

4×0.75

0.6

0.9

7.4

28.8

93.0

18(24/32)

5×0.75

0.6

1.0

8.9

36.0

113.0

17(32/32)

2×1.0

0.6

0.9

6.7

19.2

67.0

17(32/32)

3×1.0

0.6

0.9

7.1

29.0

86.0

17(32/32)

4×1.0

0.6

0.9

7.8

38.4

105.0

17(32/32)

5×1.0

0.6

1.0

8.9

48.0

129.0

16(30/30)

2×1.5

0.8

1.0

7.9

29.0

91.0

16(30/30)

3×1.5

0.8

1.0

8.4

43.0

110.0

16(30/30)

4×1.5

0.8

1.1

9.4

58.0

137.0

16(30/30)

5×1.5

0.8

1.1

11.0

72.0

165.0

14(30/50)

2×2.5

0.9

1.1

9.3

48.0

150.0

14(30/50)

3×2.5

0.9

1.1

9.9

72.0

170.0

14(30/50)

4×2.5

0.9

1.1

11.0

96.0

211.0

14(30/50)

5×2.5

0.9

1.1

13.3

120.0

255.0

12(56/28)

3×4.0

1.0

1.2

12.4

115.0

251.0

12(56/28)

4×4.0

1.0

1.3

13.8

154.0

330.0

10(84/28)

3×6.0

1.0

1.4

15.0

173.0

379.0

10(84/28)

4×6.0

1.0

1.5

16.6

230.0

494.0

H05SST-F

18(24/32)

2×0.75

0.6

0.8

7.2

14.4

63.0

18(24/32)

3×0.75

0.6

0.9

7.8

21.6

75.0

18(24/32)

4×0.75

0.6

0.9

8.4

28.8

99.0

18(24/32)

5×0.75

0.6

1.0

9.9

36.0

120.0

17(32/32)

2×1.0

0.6

0.9

7.7

19.2

71.0

17(32/32)

3×1.0

0.6

0.9

8.1

29.0

91.0

17(32/32)

4×1.0

0.6

0.9

8.8

38.4

111.0

17(32/32)

5×1.0

0.6

1.0

10.4

48.0

137.0

16(30/30)

2×1.5

0.8

1.0

8.9

29.0

97.0

16(30/30)

3×1.5

0.8

1.0

9.4

43.0

117.0

16(30/30)

4×1.5

0.8

1.1

10.4

58.0

145.0

16(30/30)

5×1.5

0.8

1.1

12.0

72.0

175.0

14(30/50)

2×2.5

0.9

1.1

10.3

48.0

159.0

14(30/50)

3×2.5

0.9

1.1

10.9

72.0

180.0

14(30/50)

4×2.5

0.9

1.1

12.0

96.0

224.0

14(30/50)

5×2.5

0.9

1.1

14.3

120.0

270.0

12(56/28)

3×4.0

1.0

1.2

13.4

115.0

266.0

12(56/28)

4×4.0

1.0

1.3

14.8

154.0

350.0

10(84/28)

3×6.0

1.0

1.4

16.0

173.0

402.0

10(84/28)

4×6.0

1.0

1.5

17.6

230.0

524.0
VDE H05SS-F/H05SST-F Heavy Cable Show