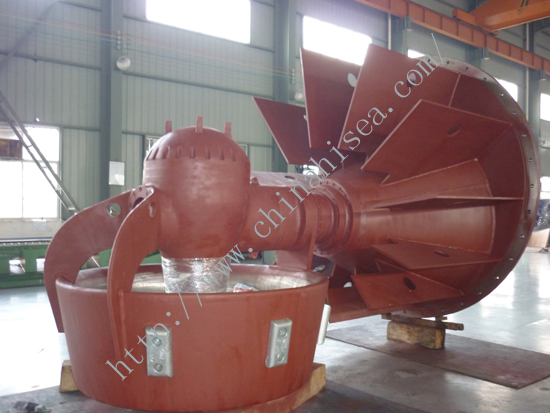 Marine Azimuth Thruster
Application: tug boat, harbor workboat, service ship, ferry and engineering ship.Z-drives in open wheel configuration or with nozzles.
Characteristics:
1.The propeller is combined design with nozzle. Plus its suitable large diameter and low rotating speed design, the propulsive force and efficiency are hence improved;
2.the shape of rudder-rod and its distance to propeller are optimized so as to further improve efficiency and reduce vibration and steering moment;
3.The reliability and service life are increased significantly by using high strength gears, high rotating speed bearings and well-designed leak tightness and oil way;
4.The steering mode can be hydraulic motor-driven or electrical motor-driven
5.According to the propeller, it can be divided into FPP and CPP type, open or with nozzle.
Azimuth thruster parameters

Model

Input power

Input speed

Propeller diameter

Propeller type

Max force

(kW)

(rpm)

(mm)

(T)

RP

20-150

1500-2500

500/600/700

FPP

3.4

RP

150-250

1500-2350

700/800/900

FPP

2.9

RP

230-480

1200-2350

900/1000/1100

FPP

7.4

RP

420-690

830-1800

1200/1300/1400

FPP/CPP

11.1

RP

650-980

830-1800

1500/1600/1700

FPP/CPP

16.1

RP

950-1500

830-1500

1900/2000/2100

FPP/CPP

24.3

RP

1320-1750

750-1500

2200/2300/2400

FPP/CPP

29.3

RP

1650-2250

550-1200

2400/2500/2600

FPP/CPP

36.9

RP

2200-2600

550-1200

2600/2700/2800

FPP/CPP

42.6

RP

2350-3400

550-1200

2900/3200/3500

FPP/CPP

58.1

RP

3350-4500

750-1000

3800/4000/4200

FPP/CPP

79.5