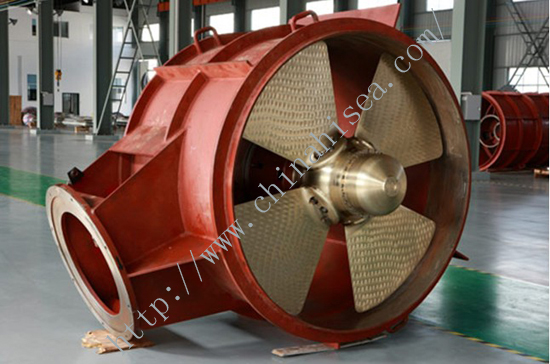 Marine Tunnel Thruster
he tunnel thruster is widely used in various kinds of ships and can be driven by diesel engine or electric-motor. According to the thruster type it can be divided into two types - fixed pitch propeller and controllable pitch propeller, it can be installed vertically or horizontally. and design based on concept of reliability, durability, high efficiency and easy maintenance.
Feature: :
1.The propeller's diameter-speed combination is optimized so that propulsion efficiency is improved, reduce diameter while keep the same thrust force.
2.Adopt skew and large area ratio blade leading to low vibration and better cavitation performance.
3.High strength and long life gears and bearings is used and good lubrication and cooling is realized to improve whole machine's reliability.
4.The use of optimal design for underwater mechanism allows compact structure and easy installation and maintenance.
5.Used better stern seal to ensure tightness and meet requirements of increasingly strict marine pollution prevention.
Fixed pitch propeller tunnel thruster parameters
Model
FP-500
FP-600
FP-700
FP-800
FP-900
FP-1000
FP-1100
FP-1300
FP-1480
FP-1650
FP-2000
FP-2400
Max input power
63/72
90/105
135/165
180/190
200/235
280/290
315/340
445/480
560/620
680/730
1050/900
1580/1720
Ratio
1.52
2.071
2.07
2.417
2.42
3.09
3.09
3.78
4.364
4.73
4.82
4.63
Max input torque
600
900
900
1400
1400
2100
2100
3000
3800
4500
7250
15400
Max input speed
1450/1750
1450/1750
1450/1750
1450/1750
1450/1750
1450/1750
1450/1750
1450/1750
1450/1750
1450/1750
1450/1190
980/1190
Propeller speed
954/1151
700/845
700/845
600/724
600/724
469.1/566
469.1/566
384/463
332.3/401
307/370
301/247
211/257
Propeller diameter
500
600
700
800
900
1000
1100
1300
1480
1650
2000
2400
Max thrust
10/11.2
14.5/16.3
20/24.8
29.5/30.5
31/35.4
43/45.2
49/53.8
67/73
88/95
105/110
165/150
250/260
Cylinder length
600
800
800
920
920
1045
1045
1190
1320
1446
1680
1990
Cylinder internal
515
615
715
818
918
1020
1120
1328
1510
1680
2030
2430
Controllable pitch propeller tunnel thruster parameters

Model

CP-1000

CP-1100

CP-1300

CP-1650

CP-2000

CP-2400

CP-2800

Max input power

280

315/335

445/480

680/730

1050/900

1580/1720

2000/1910

Ratio

3.09

3.09

3.78

4.72

4.82

4.645

4.395

Max input speed

1450/1750

1450/1750

1450/1750

1450/1750

1450/1190

980/1190

980/880

Propeller speed

469.1/560

469/566

384/463

307/370

301/247

211/256

223/200

Propeller diameter

1000

1100

1300

1650

2000

2400

2800

Max thrust

43

46/47

66/67

97/105

155/144

239/242

298/297

Cylinder length

1045

1045

1190

1446

1680

1990

2280

Cylinder internal

1020

1120

1328

1680

2030

2430

2836