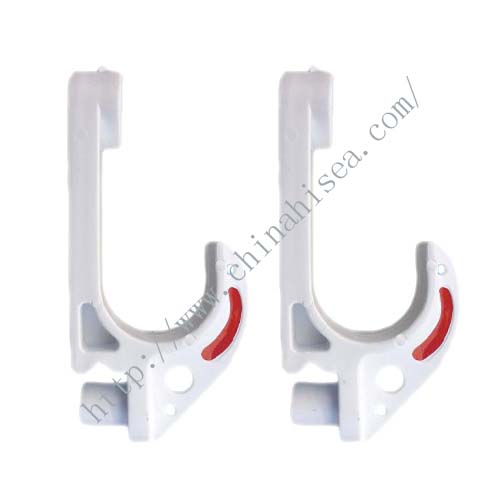 Mine Cable Hook
Mine Cable Hook
Mine Cable Hook Application
This product can be set up according to the number of cables or pipes,can greatly shorten the installation time,reduce maintenance costs,combined hook will not swing around.when you unload the middle hook,you do not need to move hook below.The hook has beautiful appearance,easy to install and disassemble.It is the ideal hook to replace traditional metal cable hook,especially suitable for underground colliery cable.
Mine Cable Hook Service condition and advantages
1.Flame retardant and antistatic
antistatic agents and flame retardant agents uniformly distributed in the resin,antistatic and flame retardant performance will not be affected by the extension of time.
2.Lightweight,easy to install
Lightweight (1/7 of steel pipe),low cost,transportation,quick installation,used in underground installation.
It can not only reduce labor intensity and improve work efficiency,but also reduce construction cost .
3.Anti-aging, anti corrosive
Normal service life up to 50 years.without release hook and cable,you can install and disassemble hook freely.
4.Anti-swing
Hooks were combined in the same center line,non swing,more beautiful,more reliable.
5.Health and Environmental Protection
Material can be recycle used.
Mine Cable Hook technical parameters
Hook load of not less than 350 kg.
Curved hook hook load 70 kg , the straight bar segment deflection should be less than 10 mm.
Hook surface resistance ( static value ) should not exceed 3 × 108 Ω.
Hook flame retardant ( s ) :
1 ) flaming combustion time ( average ) ≤ 3s
2 ) flaming combustion time ( max ) ≤ 10s
3 ) flameless combustion time ( average ) ≤ 10s
4 ) flameless combustion time ( max ) ≤ 30s
Mine Cable Hook Model and Specification
| | | | |
| --- | --- | --- | --- |
| Item | Curved hook diameter(mm) | hook length(mm) | Max.Breaking Force(N) |
| TJL08/9 | 8±2 | 166±2 | ≥4100 |
| TJL08/20 | 20±2 | 110±2 | ≥4100 |
| TJL08/30 | 30±2 | 122±2 | ≥4100 |
| TJL08/40 | 40±2 | 127±2 | ≥4200 |
| TJL08/50 | 50±2 | 144±2 | ≥4200 |
| TJL08/60 | 60±2 | 156±2 | ≥4200 |
| TJL08/95-70 | 70±2 | 167±2 | ≥4200 |
| TJL08/185-80 | 80±2 | 189±2 | ≥4200 |
| TJL08/240-100 | 100±2 | 209±2 | ≥4200 |
Mine Cable Hook show