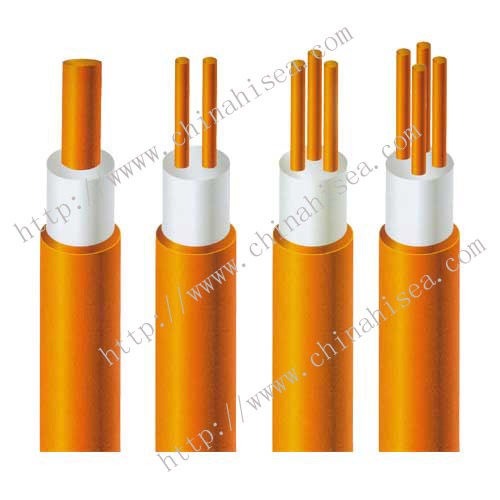 Mineral insulated power cable
Mineral insulated power cable
Mineral insulated power cable introduction
Mineral insulated cable with high conductivity copper conductor, inorganic magnesium oxide insulation, seamless copper sheath as the basic structural component, when the cable is used to copper corrosion factory, the outermost layer of polyvinyl chloride can add one , while in the building or underground spaces of the cable have aesthetic or easily accessible place, can add a layer LSOH outer sheath.
Cable continuous working temperature at 950 ℃ ~ 1000 ℃ when sustainable supply three hours, or a very short time period close to the melting point of 1083 ℃ copper work (magnesium melting point of 2800 ℃)
Rubber insulated power cable application
fire proof systems and equipment, namely fire danger zone
petrochemical industry, offshore oil platforms, refineries, natural gas, nuclear power plants, military industry.
high temperature applications
metallurgical industry, coke industry, power plants, ship building industry and other high temperature applications of transmission and distribution lines. •
Public entertainment, national monuments and historic buildings, high-rise buildings, banks, hotels, subways, tunnels, underground car parks, hospitals, schools, offices, airports, railway stations, shopping malls, warehouses and other important places.
Rubber insulated power cable features
1.Fire resistant
2.Overload capability
3.Large carrying capacity
4.High working temperature
5.Waterproof, anti-corrosion, explosion proof
6.Superior Shielding performance
7.Strong anti-radiation
8.Longer service life
9.Small outer diameter and light weight
10.Safe and environment friendly
11.High mechanical strength
12.Bending performance and Good grounding
Mineral insulated cable standard
mineral insulated cable manufacturing execution standards:
1, GB13033-91 Rated voltage 750V and below Mineral insulated cables and their terminations
2, IEC60702-2002 rated voltage not exceeding 750V Mineral insulated cables and their terminations
3, BS6207-2001 Rated voltage 750V and below the mineral insulated cables
4, GB/T16895.15-2002 Electrical installations of buildings - wiring systems ampacity
Second, the characteristics of mineral insulated cable standards:
1, BS6387: 1994 for the holding circuit integrity under fire performance standards cables (UK )
2, GA306.1 ~ 306.2-2001 plastic insulation and fire retardant cables grading standards and requirements of Ministry of Public Security Fire
3, IEC60332-3 cables under fire conditions the combustion test
4, GB/T18380.1-.3-2001 cable in the flame combustion test under the conditions
5, GB/T17651.2-1998 of cables burning under defined conditions of smoke density
6, GB/T17650.2-1998 combustion of materials from cables - Tests on gases precipitation
7, GB/T19216-2003 cable wire and cable fire performance test methods
8, IEC60331 cable wire and cable fire performance test methods
9, UL2196 cable fire performance testing U.S.
10, IEC60754-2 acidic and corrosive gas evaporation
11, IEC60134-2 smoke density test
Third, the application of standard mineral insulated cables
1, DGJ08-93-2002 Shanghai Engineering Construction Specification
2, 99D163 mineral insulated cable laying
3, IEC364-5-523 Electrical installations of buildings Selection and erection of electrical equipment - Wiring systems ampacity
4, GB50127-94 electrical engineering design of cables
5, GBJ16-87 building fire safety design specifications
6, GB50045-95 fire protection design of tall buildings
7, GB50016-98 automatic fire alarm system design specifications
8, JGJ/T16-92 civil electrical design specifications
9, GB50067-97 garage , repair garage, parking for fire protection design
10, AS2293 building fire detection and alarm
11, AS3000 -line rule, firefighting equipment and elevators
12, ECP33/1999 implementing rules Zealand electrical installation equipment
13, BS7671 electrical installation requirements Britain
14, BS5345 for use in potentially explosive atmospheres electrical device selection , installation and maintenance of the customary rules
Mineral insulated power cable delivery
A finished cable shall be delivered into a tray or into a circle, wound neatly and properly packaged. Length of the error should not exceed ± 0.5%.
According to the agreement, allowing any length of cable delivery.
Mineral insulated power cable Structure


Mineral insulated power cable sample