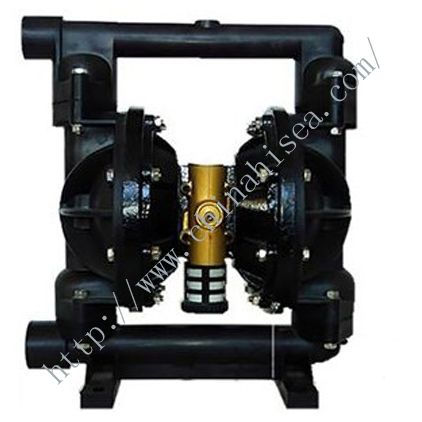 Pneumatic Diaphragm Pump
QBY type Pneumatic Diaphragm Pump:
Feature & Advantage of pneumatic diaphragm pump
1, No need adding water. Suction lift up to 5m. Head up to 50m. Outlet pressure ≥ 6bar.
2, The flow is spacious, and good performance. Allow a maximum particle diameter of 10mm. Pumping mud, impurities Day-inch pump wear is minimal;
3,Head, flow through the valve open to realize stepless adjustment (air pressure adjustment between 1-7 bar):
4, the pump has no rotary parts, without moving parts of the medium and pump shaft seals, diaphragm pumping the workpiece media completely separated, will not leak out of the transmission medium. So pumping toxic, flammable or corrosive media, will not cause environmental pollution and danger to personal safety;
5, Without electricity. In flammable and explosive places with safe and reliable;
6, Can be immersed in the working medium;
7, Easy to use, reliable work, turns on and off simply to open and close the gas valve. Due to unforeseen circumstances, a long time without the medium run or sudden shutdown of the pump will not be damaged. Once the overload, the pump will seismograph downtime, self-protective properties, and can automatically start running when the load back to normal;
8, Simple structure, less wearing parts, the pump structure is simple to install, easy maintenance, pumping media does not come into contact with pneumatic valve and coupling rod and other moving parts, unlike other types of pump rotor, piston, gear wear, blades and other components, the performance gradually decline:
9, Can transmit the adhesive liquid (viscosity less than 10,000 cps);
10, The pump without oil lubrication, even when idling. No harmful to pump, which is the most important feature of the pump.
Performance
Type
Diameter of inlet&outlet(mm)
Capacity
Head
Sucked
Max grain Dia φ(mm)
Max peressure(kgf/cm2)
(m3/h)
(m)
(m)
QBY-10
10
0.8
50
5
1
7
QBY-15
15
1
50
5
1
7
QBY-25
25
2.4
50
7
2.5
7
QBY-40
40
8
50
7
4.5
7
QBY-50
50
12
50
7
8
7
QBY-65
65
16
50
7
8
7
QBY-80
80
24
50
7
10
7
QBY-100
100
30
50
7
10
7