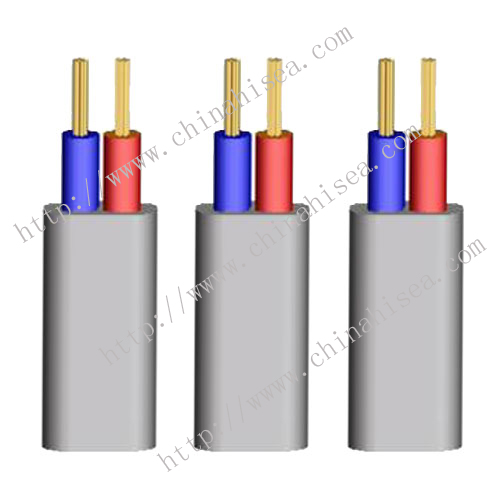 PVC insulated and sheathed Flexible Flat Cable
PVC insulated and sheathed Flexible Flat Cable Application
Cables are generally applicable to home appliances, small electric tools, instruments, meters, lighting and power lines, control equipment.
Copper core PVC insulated flat flexible cable, which conductor is stranded conductor composed of a plurality of thin copper wire from a soft, refined than the average BVVB (ie "flat line") conductor should be soft, so easier construction.
Standards: JB/T8734, GB/T5023, IEC60227
PVC insulated and sheathed Flexible Flat Cable Features
The main characteristics of RVVB cable as follows:
(1) Conductor: Class 5 conductor must comply with GB/T3952 (equal to IEC60228) requirements.
(2) Insulation material: PVC (ie PVC).
(3) Jacket Material: PVC (ie PVC).
(4) Nominal cross-sectional area: 0.75 ~ 1.5mm2.
(5) Rated voltage: 300/300V or 300/500V.
(6) Operating temperature: 0 ~ 70 ℃.
(7) bending radius: not less than 6 times the cable diameter.
(8) construction standards: must be in strict accordance with the GB50168-2006 standard.
PVC insulated and sheathed Flexible Flat Cable Specification
RVVB、ZR-RVVB
Rated Voltage

Nominal Area

(mm2)

Conductor Category

Refer Outer Diameter

(mm)

20℃ Maximum
DC Resistance


(Ω/km)

Nominal Ampacity

(A)

300/300V

2 x 0.50

5

3.8 x 6.0

39.0

10

2 x 0.75

5

3.9 x 6.4

26.0

13

300/500V

2 x 0.75

5

5.0 x 7.6

26.0

13

300/500V

2x 1.0

5

5.3 x 8.5

19.5

15

300/500V

2 x 1.5

5

6.0 x 9.0

13.3

15
PVC insulated and sheathed Flexible Flat Cable Show