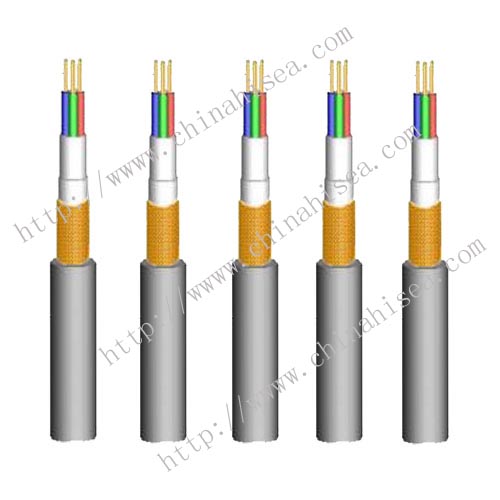 PVC insulated Braided Shield Flexible Cable
PVC insulated Braided Shield Flexible Cable Application
PVC insulated copper braided shield PVC sheathed cable As a result of a braided shield, it has better electromagnetic compatibility characteristics. It is especially suitable than the harsh electromagnetic environment, install from smaller installations. RVVP cable products can be installed in the bridge, hose, for indoor installation.
PVC insulated Braided Shield Flexible Cable Features
Rated voltage: 300V/500V.
Conductor: Stranded copper conductor, in line with GB/T3956 Class 5 (equivalent to IEC60228.5).
Insulation: Polyvinyl chloride (PVC).
Shield: tinned copper braid shield, braid density greater than 85%.
Sheath: Flexible PVC (PVC).
Sheath color: black, or according to customer requirements.
Core identification: ≤ 5 cores colored wire; black cores with white numbers, may contain yellow / green lines.
Number of cores :2-24 core.
Cross-sectional area: 0.50-6.0mm2.
Test voltage: 2000V, 5 minutes without breakdown.
Insulation resistance:> 20MΩ × KM.
PVC insulated Braided Shield Flexible Cable Service Condition
(1) the construction according to strict accordance with GB50168-2006 standard of conduct.
(2) Operating temperature: -0 ℃ ~ +70 ℃.
(3) bending radius: Minimum 15 times the cable diameter.
(4) flame retardant properties: IEC60332.
PVC insulated Braided Shield Flexible Cable Specification
RVVP、ZR-RVVP
Cores*Area
mm2
Max.Diameter of Cores
mm
Insulation Thickness
mm
Screen Copper Dia
mm
Sheath Thickness
mm
Max.Average Outer Dia
mm
Approx.Weight
kg/km
Maximum resistance of copper conductor
Ω/km
Minimum insulation resistance
MΩ.km
Cooper Conductor
Tinned Copper
1×0.3
1×0.4
1×0.5
1×0.75
1×1.0
1×1.5
1×1.25
*1×4
*1×6
0.16
0.16
0.21
0.21
0.21
0.26
0.26
0.31
0.31
0.5
0.5
0.5
0.5
0.6
0.6
0.7
0.8
0.8
0.10
0.10
0.10
0.10
0.10
0.10
0.15
0.15
0.15
0.4
0.4
0.4
0.4
0.6
0.6
0.6
0.8
0.8
3.5
3.7
3.8
4.1
4.9
5.2
6.0
7.1
8.2
14.46
16.44
17.99
21.50
30.25
36.64
55.92
83.60
107.54
69.2
48.2
39.0
26.0
19.5
13.3
7.98
-
-
71.2
49.6
40.1
26.7
20.0
13.7
8.21
-
-
0.014
0.013
0.012
0.010
0.010
0.009
0.008
-
-
2×0.3
0.16
0.5

0.15
0.6
6.2
40.16
69.2
71.2
0.014
4.2×6.2
35.70
-
-
-
2×0.4
0.16
0.5
0.15
0.6
6.6
45.19
48.2
49.6
0.013
4.4×6.6
40.09
-
-
-
2×0.5
0.21
0.5
0.15
0.6
6.8
19.05
39.0
40.1
0.012
4.5×6.8
43.48
-
-
-
2×0.75
0.21
0.5
0.15
0.6
7.4
57.68
26.0
26.7
0.010
4.8×7.4
51.11
-
-
-
2×1.0
0.21
0.6
0.15
0.6
8.2
71.22
19.5
20.0
0.010
5.2×8.3
62.68
-
-
-
2×1.5
0.26
0.6
0.15
0.8
9.2
92.90
13.3
13.7
0.009
6.0×9.3
82.07
-
-
-
*2×2.5
0.26
0.7
0.15
1.0
10.9
143.53
7.98
8.21
0.008
7.1×11.0
125.84
-
-
-
*2×4
0.31
0.8
0.15
1.0
11.5
188.10
-
-
-
8.2×11.6
165.49
-
-
-
3×0.3
3×0.4
3×0.5
3×0.75
3×1.0
3×1.5
*3×2.5
4×0.3
4×0.4
*4×0.5
*4×0.75
*4×1
*4×1.5
*4×2.5
5×0.3
5×0.4
*5×0.5
*5×0.75
*5×1
*5×1.5
*5×2.5
6×0.3
6×0.4
*6×0.5
*6×0.75
*6×1
*6×1.5
*6×2.5
7×0.3
7×0.4
*7×0.5
*7×0.75
*7×1
*7×1.5
*7×2.5
8×0.3
8×0.4
*8×0.5
*8×0.75
*8×1
*8×1.5
*8×2.5
10×0.3
10×0.4
*10×0.5
*10×0.75
*10×1
12×0.3
12×0.4
*12×0.5
*12×0.75
*12×1
14×0.3
14×0.4
*14×0.5
*14×0.75
*14×1
16×0.3
16×0.4
*16×0.5
*16×0.75
*16×1
19×0.3
19×0.4
*19×0.5
*19×0.75
*19×1
24×0.3
24×0.4
*24×0.5
*24×0.75
*24×1
0.16
0.16
0.21
0.21
0.21
0.26
0.26
0.16
0.16
0.21
0.21
0.21
0.26
0.26
0.16
0.16
0.21
0.21
0.21
0.26
0.26
0.16
0.16
0.21
0.21
0.21
0.26
0.26
0.16
0.16
0.21
0.21
0.21
0.26
0.26
0.16
0.16
0.21
0.21
0.21
0.26
0.26
0.16
0.16
0.21
0.21
0.21
0.16
0.16
0.21
0.21
0.2
0.16
0.16
0.21
0.21
0.21
0.16
0.16
0.21
0.21
0.21
0.16
0.16
0.21
0.21
0.21
0.16
0.16
0.21
0.21
0.21
0.5
0.5
0.5
0.5
0.6
0.6
0.7
0.5
0.5
0.5
0.5
0.6
0.6
0.7
0.5
0.5
0.5
0.5
0.6
0.6
0.7
0.5
0.5
0.5
0.5
0.6
0.6
0.7
0.5
0.5
0.5
0.5
0.6
0.6
0.7
0.5
0.5
0.5
0.5
0.6
0.6
0.7
0.5
0.5
0.5
0.5
0.6
0.5
0.5
0.5
0.5
0.6
0.5
0.5
0.5
0.5
0.6
0.5
0.5
0.5
0.5
0.6
0.5
0.5
0.5
0.5
0.6
0.5
0.5
0.5
0.5
0.6
0.15
0.15
0.15
0.15
0.15
0.20
0.20
0.15
0.15
0.15
0.15
0.15
0.20
0.20
0.15
0.15
0.15
0.15
0.15
0.20
0.20
0.15
0.15
0.15
0.15
0.15
0.20
0.20
0.15
0.15
0.15
0.15
0.15
0.20
0.20
0.15
0.15
0.15
0.15
0.15
0.20
0.20
0.20
0.20
0.20
0.20
0.20
0.20
0.20
0.20
0.20
0.20
0.20
0.20
0.20
0.20
0.20
0.20
0.20
0.20
0.20
0.20
0.20
0.20
0.20
0.20
0.20
0.20
0.20
0.20
0.20
0.20
0.6
0.6
0.6
0.6
0.8
0.8
1.0
0.6
0.6
0.8
0.8
0.8
1.0
1.0
0.6
0.6
0.8
0.8
1.0
1.0
1.0
0.6
0.8
0.8
0.8
1.0
1.0
1.0
0.6
0.8
0.8
0.8
1.0
1.0
1.0
0.6
0.8
0.8
0.8
1.2
1.2
1.2
0.8
0.8
1.0
1.0
1.2
0.8
0.8
1.0
1.0
1.2
0.8
0.8
1.0
1.0
1.2
0.8
0.8
1.0
1.0
1.2
0.8
1.0
1.2
1.2
1.2
1.0
1.0
1.2
1.2
1.2
6.5
6.9
7.1
7.8
9.1
10.0
11.9
7.0
7.5
8.2
8.7
9.7
11.1
12.8
7.6
8.1
8.7
9.4
11.1
11.9
13.8
8.2
9.2
9.3
10.0
11.8
12.7
14.8
8.2
9.2
9.3
10.0
11.8
12.7
14.8
8.7
9.6
10.1
1.8
13.2
14.2
16.4
10.9
11.6
12.4
13.2
15.1
11.2
11.9
12.7
13.5
15.5
11.7
12.5
13.3
14.2
16.2
12.3
13.1
14.0
14.9
17.1
12.9
14.2
15.1
16.1
17.9
14.4
16.4
17.4
18.6
21.0
46.65
53.15
28.20
69.62
93.67
122.92
189.37
54.71
62.86
74.85
89.69
113.06
157.24
231.10
63.28
73.13
86.71
104.44
150.57
183.97
282.80
71.80
90.10
99.40
120.59
171.85
211.08
315.00
75.06
94.45
104.62
127.97
181.80
225.10
338.10
85.02
106.81
118.53
145.43
216.27
266.95
400.23
120.78
139.95
164.19
199.21
262.76
133.30
156.51
183.47
224.30
296.37
148.40
173.78
203.67
250.38
331.31
162.94
191.47
224.35
276.99
366.94
181.16
224.46
262.07
323.75
413.35
232.09
273.80
319.65
396.78
508.49
69.2
48.2
39.0
26.0
19.5
13.3
7.98
69.2
48.2
39.0
26.0
19.5
13.3
7.98
69.2
48.2
39.0
26.0
19.5
13.3
7.98
69.2
48.2
39.0
26.0
19.5
13.3
7.98
69.2
48.2
39.0
26.0
19.5
13.3
7.98
69.2
48.2
39.0
26.0
19.5
13.3
7.98
69.2
48.2
39.0
26.0
19.5
69.2
48.2
39.0
26.0
19.5
69.2
48.2
39.0
26.0
19.5
69.2
48.2
39.0
26.0
19.5
69.2
48.2
39.0
26.0
19.5
69.2
48.2
39.0
26.0
19.5
71.2
49.6
40.1
26.7
20.0
13.7
8.21
71.2
49.6
40.1
26.7
20.0
13.7
8.21
71.2
49.6
40.1
26.7
20.0
13.7
8.21
71.2
49.6
40.1
26.7
20.0
13.7
8.21
71.2
49.6
40.1
26.7
20.0
13.7
8.21
71.2
49.6
40.1
26.7
20.0
13.7
8.21
71.2
49.6
40.1
26.7
20.0
71.2
49.6
40.1
26.7
20.0
71.2
49.6
40.1
26.7
20.0
71.2
49.6
40.1
26.7
20.0
71.2
49.6
40.1
26.7
20.0
71.2
49.6
40.1
26.7
20.0
0.014
0.013
0.012
0.010
0.010
0.009
0.008
0.014
0.013
0.012
0.010
0.010
0.009
0.008
0.014
0.013
0.012
0.010
0.010
0.009
0.008
0.014
0.013
0.012
0.010
0.010
0.009
0.008
0.014
0.013
0.012
0.010
0.010
0.009
0.008
0.014
0.013
0.012
0.010
0.010
0.009
0.008
0.014
0.013
0.012
0.010
0.010
0.014
0.013
0.012
0.010
0.010
0.014
0.013
0.012
0.010
0.010
0.014
0.013
0.012
0.010
0.010
0.014
0.013
0.012
0.010
0.010
0.014
0.013
0.012
0.010
0.010
PVC insulated Braided Shield Flexible Cable Show