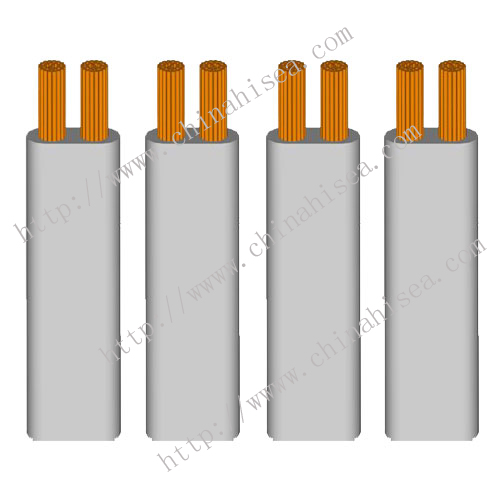 PVC insulated Flat Flexible Cable
PVC insulated Flat Flexible Cable Application
Copper core PVC insulated flat flexible cable generally applicable to domestic lighting, electrical, instrumentation, control broadcast audio connection cable, fire wire and so on.
Standards: JB/T8734, GB/T5023, IEC60227
PVC insulated Flat Flexible Cable Description
RVB difference from other "R" series of products are as follows:
RVB: parallel multi-strand cord (flat appearance), the core wire and wire RVV consistent, but usually only insulation but no jacket.
RVS: multi-strand twisted cord, is to tear RVB soft core of the twist can, usually two twisted pair.
RVV: multi-strand cord is multi-strand copper wire from the composition, RVV lines are weak systems most commonly used cable, which of cores uncertain, there is a single, but also multiple roots, but also outside of the jacket.
Added:
1, RVS twisted pair is often used in the fire alarm system signal lines are generally flame retardant (ie ZR-RVS), installed in the room and laid in underground pipe or bridge.
RVS twisted pair jamming a certain role and power plant or substation electromagnetic interference larger place, preferably shielded cables with RVVP.
2, RVV shape is round, RVB appearance is flat type. Three prices from low to high is: RVS, RVB, RVV.
RVB: parallel multi-strand cord
RVS: twisted multi-strand cord
RVV: multi-core cord
RV (single cord), RVB (two-core flat no jacket), RVS (two-core twisted cord).
PVC insulated Flat Flexible Cable Service Condition
RVB cable precaution while installation:
(1) in the construction or use, in strict accordance with the GB50168-2006 standard.
(2) long-term working temperature: 0 ~ 70 ℃
(3) bending radius: You must not be less than six times the cable diameter.
PVC insulated Flat Flexible Cable Specification
RVB Main technical:
Nominal Area

(mm2)

Nominal Outer Diameter

(mm)

Refer Weight

(kgs/km)

20℃ Conductor resistance

(≦Ω/km)

Min

Max

2 x 0.50

2.5 x 5.0

3.0 x 6.0

23.3

40.1

2 x 0.75

2.7 x 5.4

3.2 x 6.4

29.4

26.7

2 x 1.0

2.9 x 5.8

3.4 x 6.8

34.9

19.5

2 x 1.5

3.2 x 6.4

3.5 x 7.0

45.5

13.3

2 x 2.5

3.7 x 7.4

4.1 x 8.2

66.2

7.98

2 x 4.0

4.6 x 9.2

5.1 x 10.2

106.7

4.95
PVC insulated Flat Flexible Cable Show