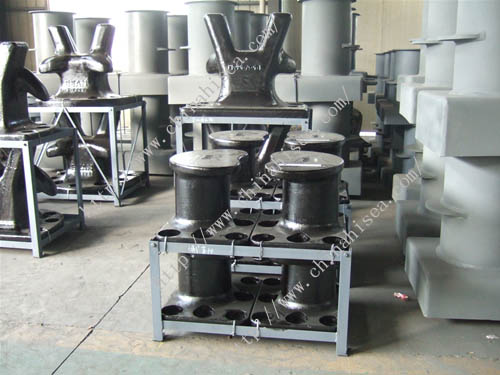 R CVI Type Bollard
R CVI Type Bollard:
Bollard weight 10~200T.
Marine bollards are used in various shipyards, docks and marine applications all over the AmericaandEuropeseaboards
Usually paint them according to customer's requirements
Our products with good quality, prompt delivery and competitive prices.
We can customized the goods according to your drawing.
Packing :After inspection, products are carefully packed in wooden case or carefully packed in Carton.
Marine bollards outfitting equipment is the most common type of system cable unit, the following summary to explain to you the specific introduction of its basic types:
For the berthing and towing operations when the cable end fixed at both floor deck and midship deck has a bollard pull and other parts of the cable used. Bollards have casting, but also useful welded steel circumference of. Because of its great force, it requires a very strong base. Medium-sized vessels to use more two-pillar bollard.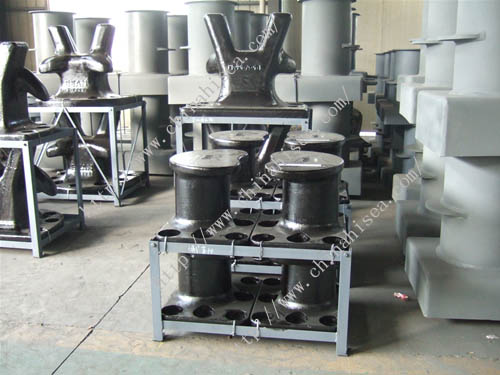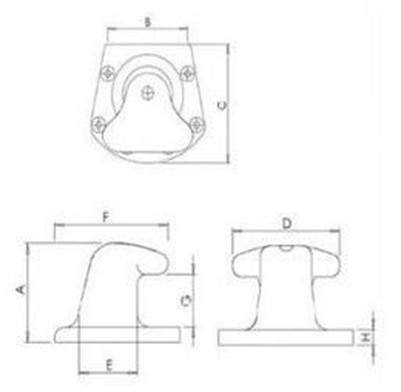 | | | | | | | | | | |
| --- | --- | --- | --- | --- | --- | --- | --- | --- | --- |
| Type | S.WL(T) | A(mm) | B(mm) | C(mm) | D(mm) | E(mm) | F(mm) | G(mm) | H(mm) |
| CVI-10 | 10 | 540 | 600 | 460 | 475 | 250 | 40 | 190 | 360 |
| CVI-20 | 20 | 540 | 600 | 460 | 475 | 250 | 50 | 190 | 370 |
| CVI-30 | 30 | 540 | 600 | 460 | 475 | 250 | 60 | 190 | 380 |
| CVI-50 | 50 | 650 | 700 | 600 | 570 | 300 | 80 | 230 | 450 |
| CVI-75 | 75 | 670 | 800 | 650 | 620 | 340 | 90 | 260 | 510 |
| CVI-100 | 100 | 810 | 1000 | 750 | 710 | 381 | 100 | 300 | 560 |
| CVI-150 | 150 | 810 | 1000 | 750 | 710 | 381 | 100 | 306 | 600 |
| CVI-200 | 200 | 800 | 1080 | 800 | 700 | 430 | 110 | 396 | 600 |