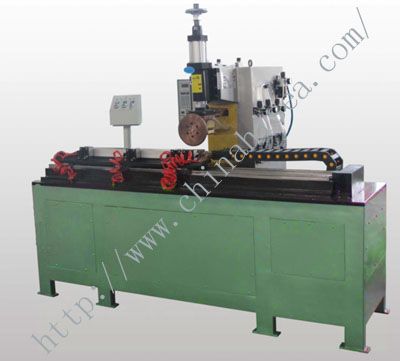 Resistance seam welding machine
Resistance seam welder:
1. working principle: during welding, weldment is pressed between the two welding wheels, rotation of the the welding wheel drive weldment and powered, the weldment gets localized heating, to form successively overlapping solder joints, so as to constitute a continuous weld to achieve a permanent connection.
2. widely used in: car motorcycle fuel tank, barrel: steel drums, and forming the sheet metal workpiece, such as wheels muffler radiator the seam welding.
Seam welder usually rack pressurized institutions welding wheels (electrode) welding power Speed transmission mechanism and controller, etc.
3. Features:
a. pressurizing mechanism: transmit pressure evenly;
b. Welding wheels: inside outside the water-cooled inside outside wheel,
c. Governor transmission mechanism: the VVVF gear reducer drive;
d. Both longitudinal weld and cross weld.
Reference parameters:

Model

parameters




FN-50K

FN-75

FN-100K

FN-150K

FN200K

rate capcity KVA

50

75

100

150

200

duty cycle %

50

50

50

50

50

power

380V/50HZ

380V/50HZ

380V/50HZ

380V/50HZ

380V/50HZ

secondary voltage V

5.2

7

8.6

11.8

14

max short circuit current KA

17

22

30

35

40

electrode warm extension /mm

520

520

520

600

600

Electrode working stroke/ mm

80

80

80

80

80

Rated electrode pressure /N

4700

7300

7300

12000

12000

bleed pressure /MPa

0.6

0.6

0. 0.6

0.6

0.6

cooling water flow L/min

15

25

25

30

30

cooling water pressure /MPa

0.15-0.3

0.15-0.3

0.15-0.3

0.15-0.3

0.15-0.3

welding ability /mm

mild steel

0.8+0.8

1.0+1.0

1.2+1.2

2.0+2.0