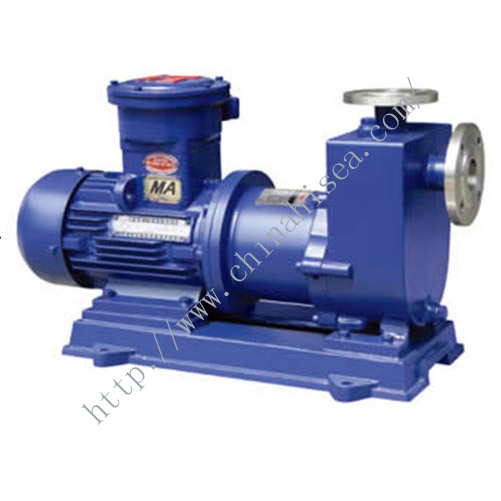 Self-priming Magnetic Driving Pump
ZCQ Self-priming Magnetic Driving Pump:
Overview
ZCQ type self-priming magnetic drive pump. Static seal replace dynamic seal, so that the flow components are sealed in totally, without the malady of mechanical seal pump, like leak.The flow components in the pump ues the material with corrosion resistance, like stainless steel, corundum ceramics, PTFE graphite, etc.. This pump have the function of CQ type magnetic drive pump, also have the function of self-priming. ZCQ pump dont need bottom valve and irrigating water. Its self-priming height can be 4 meters.
Feature
This pump has the advantages of compact structure, beautiful shape, low noise, reliable operation, convenient use.
It can pump the following material: petroleum, chemical, pharmaceutical, electric heavy liquid, venom, volatile liquid, especially the leaky, inflammable, explosive liquid. It can be used in circulating water equipment.
Application
supply and drainage for industry and city, environmental protection, construction, chemical, pharmaceutical, dye, printing and dyeing, brewing, electric power, electroplating, paper, cleaning for industrial and mine , cooling for machine.
Technical Parameter
Model

Diameter

Head

Capacity

Motor Power

Speed

Voltage

Self-priming Height

Inlet

Outlet

m

L/min

KW

r/min

V

m/3分

ZCQ25-20-115

25

20

15

110

1.1

2900

380

4

ZCQ32-25-115

32

25

15

110

1.1

2900

380

4

ZCQ32-25-145

32

25

25

110

1.1

2900

380

4

ZCQ40-32-132

40

32

20

180

2.2

2900

380

4

ZCQ40-32-160

40

32

32

180

4

2900

380

4

ZCQ50-40-145

50

40

25

240

4

2900

380

4

ZCQ50-40-160

50

40

32

220

4

2900

380

4

ZCQ65-50-145

65

50

25

280

5.5

2900

380

4

ZCQ65-50-160

65

50

32

450

7.5

2900

380

4

ZCQ80-65-125

80

65

20

800

7.5

2900

380

4

ZCQ80-65-160

80

65

32

800

15

2900

380

4

ZCQ100-80-160

100

80

32

1500

22

2900

380

4

Remark: Material of the pump body is stainless steel.(1Cr18Ni9Ti)