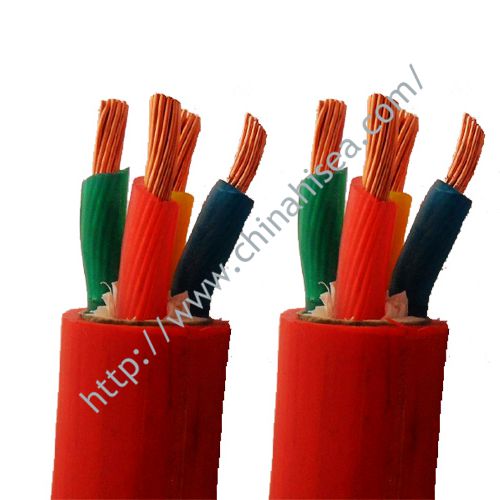 Silicon Rubber Control Cable
Silicon Rubber Control Cable
1.Silicon Rubber Control Cable Application
It is used for mobile or fixed devices of rated voltage 450/750V.


2.Silicon Rubber Control Cable Working temperature
The long-term working temperature allowed of the cable is +180℃.It may be used in environment with temperature lower than -60℃.

3.Silicon Rubber Control Cable Characters
The cable has good softness, and other advantages of resisting neat, corrosion, voltage etc.

4.Silicon Rubber Control Cable Model
KGG,KGGP
If you feel this is not what you are looking for,please kindly check more special cable here,also you can check more cable here,or you can use the search form on the upper right corner.
5.Specifications
| | | | | |
| --- | --- | --- | --- | --- |
| Nominal Cross-section(mm2) | Core Numer/Diameter(mm) | Cable outer Dia.(mm) | Weight(kg/km) | 20℃ conductor resistance ≤MΩ.km |
| 4*1 | 32/0.20 | 8.80 | 118.8 | 19.61 |
| 4*1.5 | 30/0.25 | 10.50 | 152.6 | 13.42 |
| 4*2.5 | 50/0.25 | 12.60 | 232.2 | 8.03 |
| 5*1 | 32/0.20 | 9.80 | 132.78 | 19.61 |
| 5*1.5 | 30/0.25 | 11.30 | 182.20 | 13.42 |
| 5*2.5 | 50/0.25 | 13.40 | 289.60 | 8.03 |
| 7*1 | 32/0.20 | 11.60 | 168.60 | 19.61 |
| 7*1.5 | 30/0.25 | 13.20 | 262.60 | 13.42 |
| 7*2.5 | 50/0.25 | 15.80 | 382.50 | 8.03 |
| 12*1 | 32/0.20 | 16.20 | 298.20 | 19.61 |
| 12*1.5 | 30/0.25 | 18.40 | 346.80 | 13.42 |
| 12*2.5 | 50/0.25 | 20.60 | 572.40 | 8.03 |
| 19*1 | 32/0.20 | 17.80 | 432.20 | 19.61 |
| 19*1.5 | 30/0.25 | 21.60 | 552.40 | 13.42 |
| 19*2.5 | 50/0.25 | 29.20 | 826.40 | 8.03 |
6.Structure