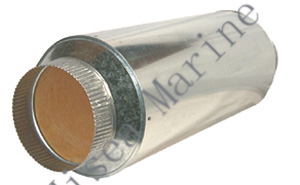 Stainless steel air muffler silencer
Description:
Available in 6",8"10"and 12" diameters.
Does not restrict airflow through duct.
Pressed HVAC fittings,coupling and special pipe fittings.
Applicate in shut off the noise inline fan.
Stainless material.
High preformance ratings with excellent reliability in all conditions.
Fit inline fan properly.
Easy to install.
Maintenance free.
Long time quality warranty after-sale service.
Available size:
Specification

Attenuation

d

D

L

Wgt.kg

Frequency

63

125

250

500

1K

2K

4K

8K

DN80/600/50

4.0

9

15

26

40

41

42

23

80

180

600

4.0

DN100/600/100

7.5

11

17

21.5

22

38

43

21

100

300

600

10

DN100/900/100

11.8

18

25

30.5

40

43

48

27

100

300

900

11.8

DN125/300/50

0.8

5

7

9.5

12

19

24

14

125

225

300

3.5

DN125/900/100

9.6

13.5

20

26

34

42

36

20

125

325

900

12.5

DN160/300/50

0

3

5

7

8

15

17

10

160

260

300

7.0

DN160/900/50

3.0

8.0

10.0

22.0

40.0

39.0

31.5

22.0

160

260

300

7.0

DN200/600/50

1

3.9

7

14

22

26

23

19

200

300

600

7.6

DN200/900/100

6.3

10

16

19.5

29.5

38

27

18

200

400

900

15.5

DN250/600/50

0

3.6

7

13

19.5

20.5

18

16

250

350

600

9.5

DN250/900/100

5.8

7.6

12.5

15

23

35

22

19

250

450

900

21.0

DN300/600/50

0

2.6

6

12

18

19

15

14

300

400

600

11.9

DN300/1000/100

6

8

15

16

25.6

35.5

21

15

300

500

1000

26.0

DN400/900/50

2.8

4.5

7

9

20

16

15.5

16

400

600

900

43.0

DN500/900/100

2.8

4

6

8

15

15.5

14

12

500

700

900

45.0

DN630/1200/100

3.9

4.5

8

12

16

19

12

10

630

830

1200

58
Dimensional data: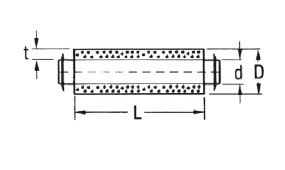 Muffler silencer: