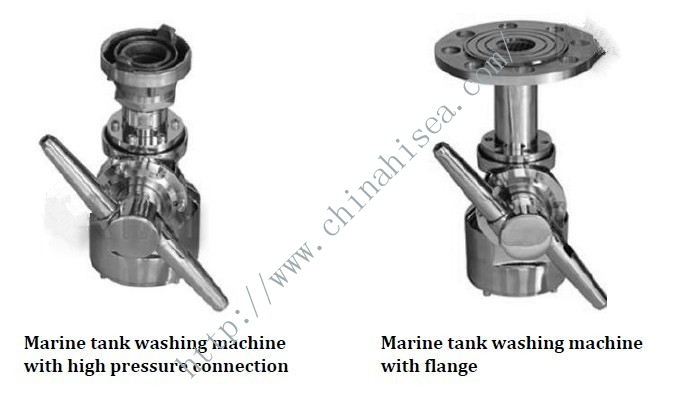 Tank Washing Machine
The tank washing machine is used for marine and industrial automated tank cleaning and washing.
There are no plastic parts in our machines that can wear away under heat, high pressure, and chemical detergents. You will also find theequipment to be low maintenance and easy to repair. We even offer training and tool kits for on-site repair, ideal for environments where your time and resources are limited.
Anti-corrosive products made of copper alloy or stainless steel is available for choices.
The joint you can choose flange or high pressure connection.
Technical Parameters:
Model

Nozzle (mm)

Working Pressure

Flow (m³/h)

Range

Rated

Deviation

Rated

Deviation

YQJ7B(Q)-50

7

0.8

0.7

0.6

12

11

10

±5%

10.5

9.5

8.5

0-10%

YQJ8B(Q)-50

8

0.8

0.7

0.6

13

12

11

±5%

12

11

10

0-10%

YQJ9B(Q)-50

9

0.8

0.7

0.6

14

13

12

±5%

13

12

11

0-10%

YQJ10B(Q)-50

10

0.8

0.7

0.6

16

15

14

±5%

14

13

12

0-10%

YQJ11B(Q)-60

11

0.8

0.7

0.6

26

24

21

±5%

15

13

12

0-10%

YQJ12B(Q)-60

12

0.8

0.7

0.6

29

27

24

±5%

16

14

13

0-10%

YQJ13B(Q)-60

13

0.8

0.7

0.6

33

30

27

±5%

18

16

15

0-10%

YQJ14B(Q)-60

14

0.8

0.7

0.6

36

33

30

±5%

20

18

16

0-10%

YQJ-22J

22

0.8

0.7

0.6

48

45

43

±5%

26

25

24

0-10%

YQJ-25J

25

0.8

0.7

0.6

65

61

57

±5%

27.5

26

24.5

0-10%

YQJ-30J

30

0.8

0.7

0.6

92

86.5

80

±5%

30

28

26

0-10%

YQJ-35J

35

0.8

0.7

0.6

120

113

105

±5%

31

29

27

0-10%
The complete tank washing machine and spare parts: