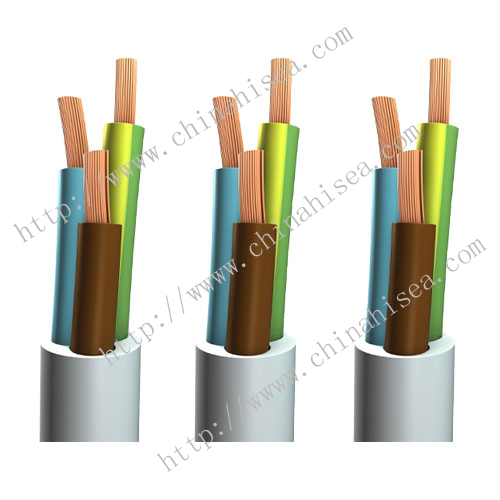 VDE H03VV-F/ H03VVH2-F Power Cable
VDE H03VV-F/ H03VVH2-F Power Cable Application
These cables are mainly applicable to the use of small appliances and light household appliances, such as connecting kitchen appliances, lamps, floor lamps, vacuum cleaners, office equipment, radios, etc., as related to the scope of these cables are suitable devices, they are not permitted for cooking or heating equipment. Less than 0.75 mm2 cable cross-section is not suitable for outdoor use and industrial or agricultural machinery applications. In the single-phase or three-phase system maximum working voltage Uo / U 330/330 V, the DC system, the maximum operating voltage is Uo / U 495/495V.
VDE H03VV-F/ H03VVH2-F Power Cable Standards and Certification
BS6500, CENELEC HD21.5, VDE 0281, CEI 20-20/5, CEI 20-35 (EN60332-1), CEI 20-52, CE Low Voltage Directive 73/23/EEC & 93/68/EEC. ROHS certification
VDE H03VV-F/ H03VVH2-F Power Cable structure
- Soft bare copper conductor
- Follow the DIN VDE 0295 cl 5, BS 6360 cl 5, IEC 60228 cl 5 and HD 383 standards..
- PVC insulation T12 class, follow the first part of VDE-0281
- Color coded to VDE-0293-308
- Yellow-green ground wire (three conductors and above)
- PVC outer sheath TM2
VDE H03VV-F/ H03VVH2-F Power Cable Technical characteristics
- Operating voltage: 300/300 V
- Test voltage: 2000 V
- Dynamic bending radius: 7.5 xΦ
- Static bending radius: 4 xΦ
- The application when the operating temperature: -5 ℃ to +70 ℃
- Static can withstand temperature: -40 ℃ to +70 ℃
- Short circuit temperature: +160 ℃
- Flame retardant: IEC 60332.1
- Insulation resistance: 20 MΩ x km
VDE H03VV-F/ H03VVH2-F Power Cable Specification
Model

Core x Area

Nominal Insulation Thickness

Nominal Sheath Thickness

Nominal O.D

Nominal Copper weight

Nominal Cable weight

# x mm2

mm

mm

mm

kg/km

kg/km

H03VV-F

20(16/32)

2 x 0.50

0.5

0.6

5

9.6

38

20(16/32)

3 x 0.50

0.5

0.6

5.4

14.4

45

20(16/32)

4 x 0.50

0.5

0.6

5.8

19.2

55

18(24/32)

2 x 0.75

0.5

0.6

5.5

14.4

46

18(24/32)

3 x 0.75

0.5

0.6

6

21.6

59

18(24/32)

4 x 0.75

0.5

0.6

6.5

28.8

72

18(24/32)

5 x 0.75

0.5

0.6

7.1

36.0

87

H03VVH2-F

20(16/32)

2 x 0.50

0.5

0.6

3.2 x 5.2

9.7

32

18(24/32)

2 x 0.75

0.5

0.6

3.4 x 5.6

14.4

35
VDE H03VV-F/ H03VVH2-F Power Cable Show