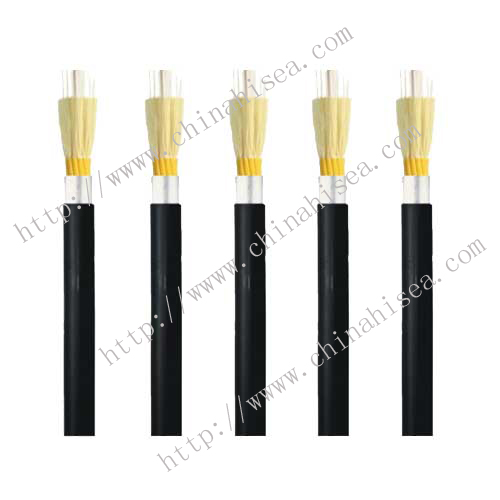 Waterproof pigtail fiber optic cable GJA
Waterproof pigtail fiber optic cable GJA description
GJA Waterproof pigtail fiber optic cable(φ900μm tight buffer fiber,aramid yarn as strength member)as subunits.A fiber reinforced plastic(FRP) locates in the center of core as a non-metallic strength member.The subunits are stranded around the cable core.An aluminum polyethylene laminate is applied around the cable core.The cable is completed with a PE jacket.
Waterproof pigtail fiber optic cable GJA Application and standards
1. Indoor any purpose cable distribution.
2. Interconnect from outdoor to indoor for optical cable distribution equipment.
3. Product standard:Comply with standards YD/T 1258.4、ICEA-596、GR-409、IEC60794,etc.
Waterproof pigtail fiber optic cable GJA Features
1. Stranded non-metallic strength member structure ensure the cable endure larger tensile strength.
2. The jacket anti0corrosion,waterproof and anti0ultraviolet radiation etc.
3. APL moisture barrier
4. Scientific design with serious processing art.
Waterproof pigtail fiber optic cable GJA Technical parameters
| | | | | | |
| --- | --- | --- | --- | --- | --- |
| Cable Code | Diameter(mm) | Weight(kg/km) | Tensile strength(Long/Short)N | Crush resistance(Long/Short)N/100mm | Bending radius(Dynamic/Static) |
| GJA-02 | 8.9±0.5 | 58.1 | 200/660 | 300/1000 | 20D/10D |
| GJA-04 | 8.9±0.5 | 58.3 | 200/660 | 300/1000 | 20D/10D |
| GJA-06 | 9.8±0.5 | 73 | 200/660 | 300/1000 | 20D/10D |
| GJA-08 | 10.6±0.5 | 95.7 | 200/660 | 300/1000 | 20D/10D |
| GJA-12 | 13.4±0.5 | 155.2 | 200/660 | 300/1000 | 20D/10D |
Transport/Storage/Operating Temperature:-20℃~+60℃,Installation temperature:-5℃~+50℃
Waterproof pigtail fiber optic cable GJA Construction