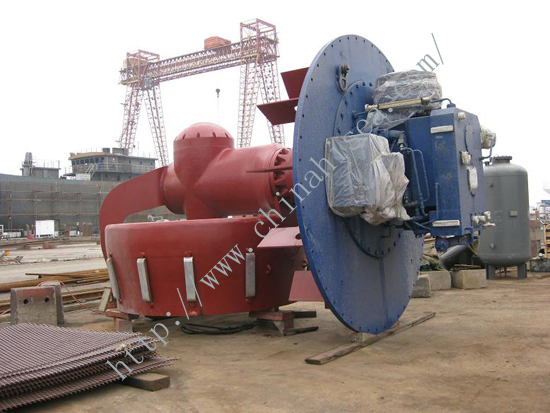 Well type Azimuth Thruster
The well installation is especially for tugs, ferries, well station, floating dock and survey ships.
Well installation varies with the distance between the rudder propeller and the diesel engine .When the engine room is very small ,the rudder propeller can be near to the diesel engine and suitable for application in long range transmission between diesel engine and rudder propeller.
Propeller diameter from 500mm - 4200 mm,drive power 20 kw -4500 kw .
We design and supply azimuth thrusters.Approval by ABS,BV,DNV,NK,RINA,CCS .

Azimuth thruster parameters

Model

Input power

Input speed

Propeller diameter

Propeller type

Max force

(kW)

(rpm)

(mm)

(T)

RP

20-150

1500-2500

500/600/700

FPP

3.4

RP

150-250

1500-2350

700/800/900

FPP

2.9

RP

230-480

1200-2350

900/1000/1100

FPP

7.4

RP

420-690

830-1800

1200/1300/1400

FPP/CPP

11.1

RP

650-980

830-1800

1500/1600/1700

FPP/CPP

16.1

RP

950-1500

830-1500

1900/2000/2100

FPP/CPP

24.3

RP

1320-1750

750-1500

2200/2300/2400

FPP/CPP

29.3

RP

1650-2250

550-1200

2400/2500/2600

FPP/CPP

36.9

RP

2200-2600

550-1200

2600/2700/2800

FPP/CPP

42.6

RP

2350-3400

550-1200

2900/3200/3500

FPP/CPP

58.1

RP

3350-4500

750-1000

3800/4000/4200

FPP/CPP

79.5