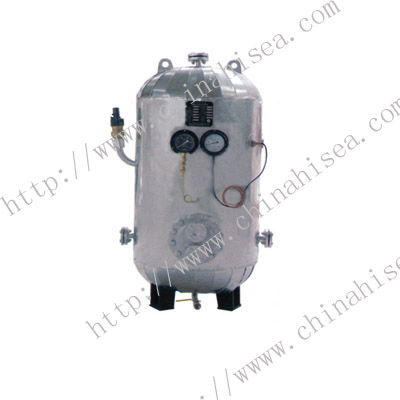 ZRG Series Steam Heating Hot Water Tank
1.Application:
This series of hot water tank is suitable for freshwater system which is heated by steam.
2. Principle description:
This series hot water tank can be combined to use with fresh water pressure tank on board, that is to use fresh water in fresh water pressure tank to replenish this tank, and then heated by steam heating elements for usage of entire vessel.
Temperature adjusting valve: open and close it according to the set temperature control range.
Pressure gauge: to show the pressure in tank.
Thermometer: to show the water temperature in tank.
Safety valve: If the pressure in tank is more than 0.63MPa, the safety valve will open to release the pressure in tank.
Note: Never wind the raw material belts into the inlet of safety valve when installing the safety valve.
3.Structure: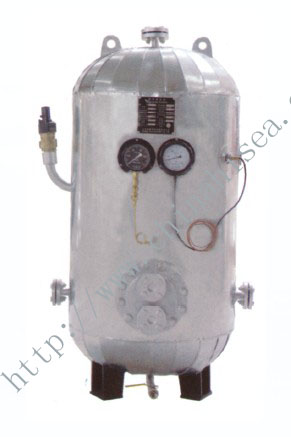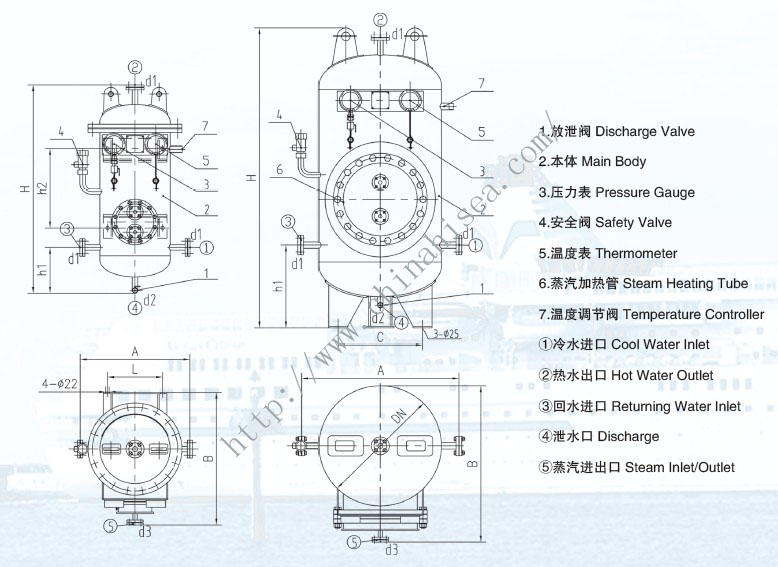 4. Technical Details:
Model

ZRG-

0.12

0.2

0.3

0.5

1.0

Capacity (m3)

0.12

0.2

0.3

0.5

1.0

Working Pressure (Mpa)

0.6

Design Pressure (Mpa)

0.7

Steam Pressure (Mpa)

0.3

Water Inlet Temp. (℃)

15

Water Outlet Temp. (℃)

65

Steam Consumption (kg/h)

27.5

45

75

120

325

Heated-water Capacity (kg/h)

275

450

750

1200

3250

Steam Hot-water area (m2)

0.24

0.38

0.6

1.0

2.6

Weight (kg)

155

205

222

286

343

DN

400

500

600

700

900

A

608

708

808

908

1108

B

784

844

944

924

1164

H

1241

1335

1417

1773

2090

d1

DN25

DN32

DN40

d2

3/4"

1"

d3

DN20

DN25

C

/

/

/

Φ490

Φ630

L

320

330

370

/

/

h1

271

266

291

490

533

h2

540

615

630

/

/

H

1241

1335

1417

1773

2090
5. CCS Certificate: