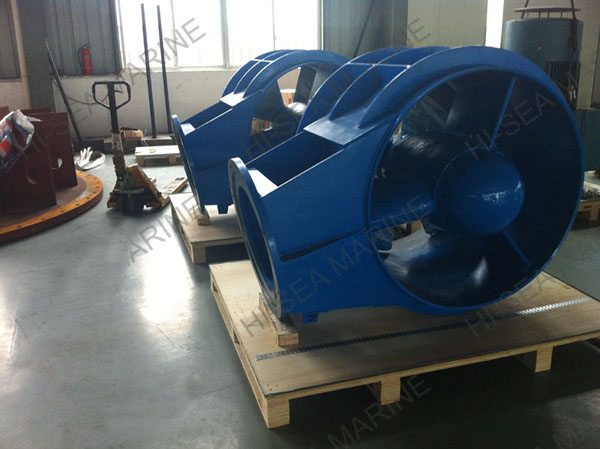 50KW--315KW Bow Thruster
50KW--315KW Bow Thruster:
Small bow thruster is to improve small tugboat,ferry,passenger ship,tanker docking capacity,It is widely use.Diameter from 500mm--1100mm.
Bow thrusters Allow the ship to dock without the assistance of tugboats, saving the costs of such service
BowThrusters can be powered by diesel engines, electric motors or hydraulic motors.
Electric motors are included optionally in the scope of supply. The prime mover can be connected either horizontally or vertically and thus incorporated optimally into the naval architectural design.
When fixed-pitch propellers are used, electric and hydraulic motors allow the direction of thrust to be reversed.
An additional reversing gearbox is required if the thruster is powered by a diesel engine.
FPP bow thruster
Model
FP-500
FP-600
FP-700
FP-800
FP-900
FP-1000
FP-1100
Max input power
63/72
90/105
135/165
180/190
200/235
280/290
315/340
Ratio
1.52
2.071
2.07
2.417
2.42
3.09
3.09
Max input torque
600
900
900
1400
1400
2100
2100
Max input speed
1450/1750
1450/1750
1450/1750
1450/1750
1450/1750
1450/1750
1450/1750
Propeller speed
954/1151
700/845
700/845
600/724
600/724
469.1/566
469.1/566
Propeller diameter
500
600
700
800
900
1000
1100
Max thrust
10/11.2
14.5/16.3
20/24.8
29.5/30.5
31/35.4
43/45.2
49/53.8
Cylinder length
600
800
800
920
920
1045
1045
Cylinder internal
515
615
715
818
918
1020
1120
Bow thruster transmission type: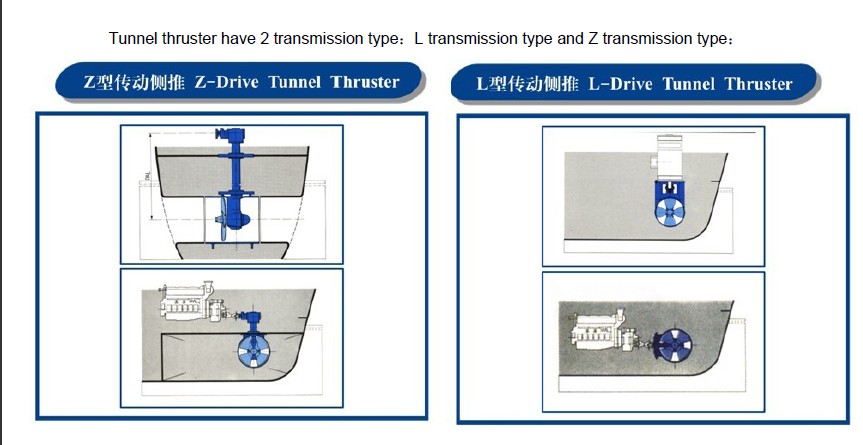 Bow thruster power selection type: