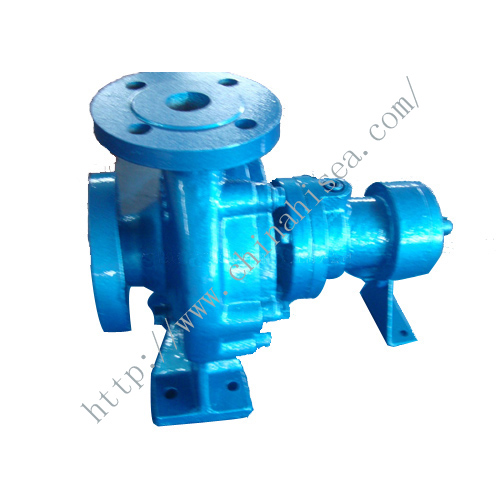 AIir-cooled Hot Oil Pump
AIir-cooled Hot Oil Pump (RY):
Brief Introduction
Type RY air-cooled hot oil pump is the energy conservation production designed and manufactured on the standard GB5662.
With scientific construction and fine capacity, it is used in transporting high temperature liquid without solid particles. And the degree of corrosing resisting and working temperature is depended on the material of the main parts which connected with the medium.(The material consists of three kinds:1.HT200;2.ZG230-450;3,1Cr18N8-9Ti,OCr18N8912Mo2Ti).
Application Scope
1、Petro-chemical Industry
2、Oil Industry
3、Synthetic-fibre Industry
4、Textile Dyeing And Printing Industry
5、Plastic And Rubber Industry
6、Papermaking Industry
7、Timber Processing Industry
8、Construction Industry
Besides the above fields the pumps are also proper in machinery manufacruring,food processing,Medicine making and the circling system for oil supplying of the hot oil boiler , the circling system of the heating installation.
Performance Scope of RY Hot Oil Pump
1、Capacity : 1-500m3/h;
2、Delivery lift : 10-125m;
3、Temperature : -20。C-350。C;
Then Sense of the type Ry hot oil pump
Set RY 100-65-200AAs The Example

RY

100

65

200

Hot Oil Pump

The Inlet Diameter of Pump Case

The Outlet Dimeter of Pump Case

Vane wheel's Nominal Diameter of Pump Case
Performance Parameters
Model

Capacity
m3/h

Lift
m

Speed
r/min

Power kw

Efficiency
η%

Motor-Y

Shaft
power

Power
Distribution

15-15-100

3

10

2800

0.45

0.75

20

801

15-15-100A

2

10

2800

0.36

0.55

18

AO2-7122

15-15-100B

1

10

2800

0.2

0.37

15

AO2-7112

20-20-100

1

10

2800

0.09

0.37

26

AO2-7112

20-20-125

1.5

22

2800

0.22

0.75

30

801

40-25-160

10

28

2900

1.72

2.2

45

90L

25-25-160

3

27

2900

0.53

1.5

30

90S

32-32-160

6

28

2900

0.85

1.5

50

90S

50-32-160

12.5

30

2900

1.90

3.0

57

100L

50-32-200

18

40

2900

3.92

5.5

50

132Sl

50-32-200A

16

32

2900

3.35

4

42

112M

50-32-250

12.5

80

2900

6.2

11

44

160Ml

65-50-160

20

32

2900

3.17

5.5

55

132S1

65-40-200

30

48

2900

6.3

7.5

62

132S2

65-40-200A

25

35

2900

4.0

5.5

59

132S1

65-40-250

25

80

2900

10.3

15

53

160M2

65-40-250A

20

51

2900

5.67

7.5

49

132S2

65-40-315

25

125

2900

18.9

30

45

200L1

65-40-315A

22.5

100

2900

15.3

22

40

180M

80-50-200

50

50

2900

9.7

15

70

160M2

80-50-200A

45

40

2900

7.8

11

63

160M1

80-50-200B

40

32

2900

6.37

7.5

55

132S2

80-50-250

50

80

2900

17.1

22

58

180M

80-50-250A

43

60

2900

12.8

15

55

160M2

80-50-315

50

125

2900

30.4

45

56

225M

80-50-315A

45

100

2900

23.6

30

52

200L1

100-65-200

100

50

2900

18.4

22

74

180M

100-65-200A

94

44

2900

16

22

70

180M

100-65-200B

87

38

2900

13.8

15

65

160M2

100-65-200C

80

32

2900

11.8

15

59

160M2

100-65-250

100

80

2900

32.06

37

68

200L2

100-65-250A

95

72

2900

29

37

64

200L2

100-65-250B

90

65

2900

26.2

30

61

200L1

100-65-250C

85

50

2900

20.3

30

57

200L1

100-65-315

100

125

2900

50.06

75

68

280S

100-65-315A

95

113

2900

45.23

55

64.63

250M

100-65-315B

90

100

2900

40.5

55

60.50

250M

100-65-315C

82

84

2900

34.76

45

54

225M

125-100-200

200

50

2900

35.4

45

77

225M

125-100-200A

178

40

2900

26.6

37

73

200L2

125-100-250

200

70

2900

47

55

80

250M

125-100-250A

190

63

2900

41.6

55

78

250M

125-100-250B

180

57

2900

37.9

45

74

225M

125-100-250C

170

51

2900

32.15

45

72

225M

125-100-250D

150

70

2900

40

45

70

225M

150-150-200

350

50

2900

60

75

80

280S

150-150-200A

313

40

2900

45

55

76

250M

200-150-400

350

50

1450

61.8

75

78

280S

200-150-400A

330

45

1450

52.8

75

77

280S

250-200-400

500

50

1480

86.2

110

79

315S

250-200-500

500

80

1480

136

160

76.5

315M

250-200-500A

400

50

1480

75

90

73

280M
Model

Capacity
m3/h

Lift
m

Speed
r/min

Power kw

Efficiency
η%

Motor-Y

Shaft
power

Power
Distribution

15-15-100

3

10

2800

0.45

0.75

20

801

15-15-100A

2

10

2800

0.36

0.55

18

AO2-7122

15-15-100B

1

10

2800

0.2

0.37

15

AO2-7112

20-20-100

1

10

2800

0.09

0.37

26

AO2-7112

20-20-125

1.5

22

2800

0.22

0.75

30

801

40-25-160

10

28

2900

1.72

2.2

45

90L

25-25-160

3

27

2900

0.53

1.5

30

90S

32-32-160

6

28

2900

0.85

1.5

50

90S

50-32-160

12.5

30

2900

1.90

3.0

57

100L

50-32-200

18

40

2900

3.92

5.5

50

132Sl

50-32-200A

16

32

2900

3.35

4

42

112M

50-32-250

12.5

80

2900

6.2

11

44

160Ml

65-50-160

20

32

2900

3.17

5.5

55

132S1

65-40-200

30

48

2900

6.3

7.5

62

132S2

65-40-200A

25

35

2900

4.0

5.5

59

132S1

65-40-250

25

80

2900

10.3

15

53

160M2

65-40-250A

20

51

2900

5.67

7.5

49

132S2

65-40-315

25

125

2900

18.9

30

45

200L1

65-40-315A

22.5

100

2900

15.3

22

40

180M

80-50-200

50

50

2900

9.7

15

70

160M2

80-50-200A

45

40

2900

7.8

11

63

160M1

80-50-200B

40

32

2900

6.37

7.5

55

132S2

80-50-250

50

80

2900

17.1

22

58

180M

80-50-250A

43

60

2900

12.8

15

55

160M2

80-50-315

50

125

2900

30.4

45

56

225M

80-50-315A

45

100

2900

23.6

30

52

200L1

100-65-200

100

50

2900

18.4

22

74

180M

100-65-200A

94

44

2900

16

22

70

180M

100-65-200B

87

38

2900

13.8

15

65

160M2

100-65-200C

80

32

2900

11.8

15

59

160M2

100-65-250

100

80

2900

32.06

37

68

200L2

100-65-250A

95

72

2900

29

37

64

200L2

100-65-250B

90

65

2900

26.2

30

61

200L1

100-65-250C

85

50

2900

20.3

30

57

200L1

100-65-315

100

125

2900

50.06

75

68

280S

100-65-315A

95

113

2900

45.23

55

64.63

250M

100-65-315B

90

100

2900

40.5

55

60.50

250M

100-65-315C

82

84

2900

34.76

45

54

225M

125-100-200

200

50

2900

35.4

45

77

225M

125-100-200A

178

40

2900

26.6

37

73

200L2

125-100-250

200

70

2900

47

55

80

250M

125-100-250A

190

63

2900

41.6

55

78

250M

125-100-250B

180

57

2900

37.9

45

74

225M

125-100-250C

170

51

2900

32.15

45

72

225M

125-100-250D

150

70

2900

40

45

70

225M

150-150-200

350

50

2900

60

75

80

280S

150-150-200A

313

40

2900

45

55

76

250M

200-150-400

350

50

1450

61.8

75

78

280S

200-150-400A

330

45

1450

52.8

75

77

280S

250-200-400

500

50

1480

86.2

110

79

315S

250-200-500

500

80

1480

136

160

76.5

315M

250-200-500A

400

50

1480

75

90

73

280M