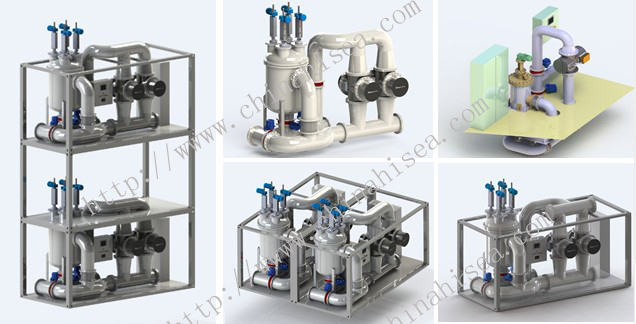 Ballast Water Treatment System Plant
Treatment Technology
The BWMS features two-stage process, applying efficient automatic filtration to remove larger organisms and sediments followed by powerful medium pressure UV unit to disinfect and inactivate smaller plankton, bacteria and pathogens.
Adopting totally chemical-free process, the BWMS best suits the demand of ship by effectively avoiding the uptake or discharge of harmful organisms but generating no toxic substance to environment and human health or corrosion contribution to ballast system.
Ballast water is treated going through the complete process (filter followed by UV reactor) at ballast water intake and re-treated at discharge through the UV reactor only (filter bypassed). The UV irradiation of ballast water again during de-ballasting ensures that any bacterial regrowth that may have occurred in the ballast tanks is fully disinfected before discharge.
Different Models: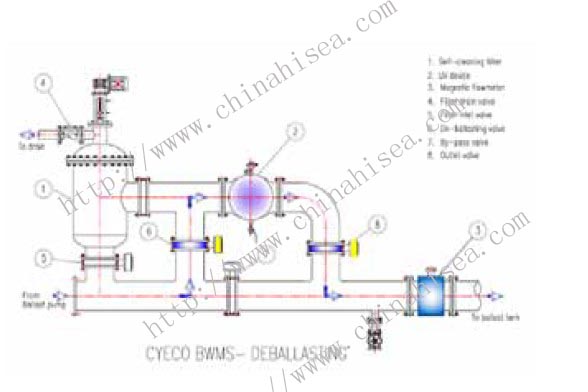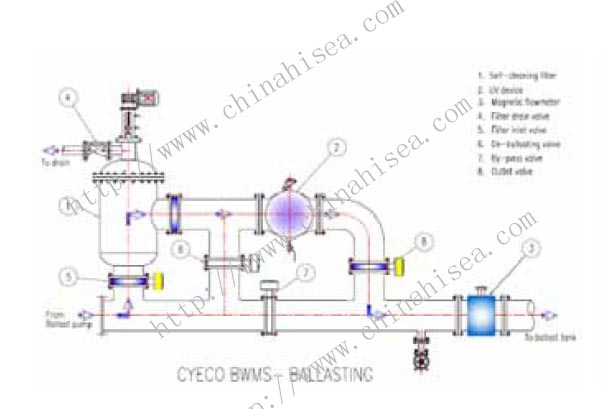 Specification of the BWMS System
| | | | |
| --- | --- | --- | --- |
| Model | Capacity (m3/hr) | Dimension (mm,L×W×H) | Weight (kg) |
| B150 | 150 | 2410×1265×1955 | 550 |
| B250 | 250 | 3010×1265×2115 | 750 |
| B300 | 300 | 3010×1265×2115 | 750 |
| B500 | 500 | 3600×2015×3250 | 1250 |
| B600 | 600 | 3650×2250×3250 | 1280 |
| B750 | 750 | 3740×2280×3810 | 2850 |
| B1000 | 1000 | 4165×2415×3845 | 3250 |
| B1200 | 1200 | 3650×4500×3250 | 3560 |
| B1500 | 1500 | 3740×4560×3810 | 5700 |
| B2000 | 2000 | 4165×4830×3845 | 6500 |
| B3000 | 3000 | 4165×7245×3845 | 9750 |
| B4000 | 4000 | 4165×9660×3845 | 13000 |
| B5000 | 5000 | 4165×12075×3845 | 16250 |
| B6000 | 6000 | 4165×14490×3845 | 19500 |