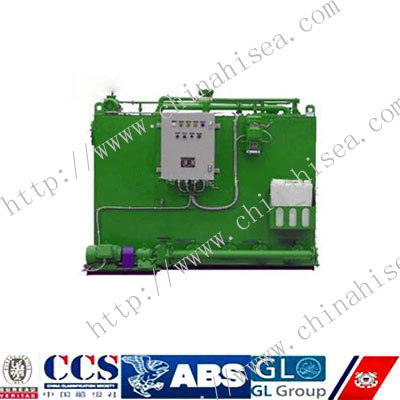 Biochemical Marine Sewage Treater
1. Biochemical Marine Sewage Treater Description
Biochemical marine sewage treater used for srorage of raw waste water or solid residue processed by sewage treatment plant for various types of vessels.Also work with the sewage treatment plant to for a complete set for forwarding counter use. This device has the features of dosing disinfection, residue crushing, cabinets washing and discharging the treated waste water residue to the outboard row. The storage cabinet structure is simple and wasy to operate and the quality of water which is procedded in line with the requirement of IMO shredders and collection tank.
2. Biochemical Marine Sewage Treater Technical Pinciples:

Raw waste water or solid residues treated by sewage treatment plant get into the sterilized manure storage cabinet, assumulating to a certain level in it, then to start the smashing pump. To make waste water or solid residue runs the repeated cycle of crushing, adding to drugs to it for disinfection at the same time. When waste water or solid residue crushed to a certain degree, we can send the waste water to the shore reception facilities through the international emission joint on the deck, or discharge directly to the outboard in the non-controlled sea area.
3. Biochemical Marine Sewage Treater Models Description and Data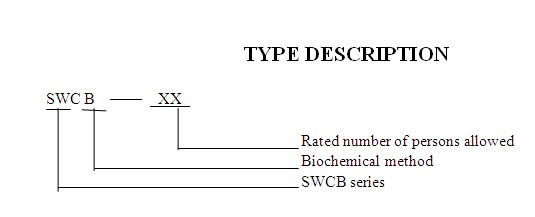 Model

SWCB

6

10

15

20

25

30

40

50

60

80

100

150

200

250

300

Load

Average load

(L/d)

490

840

1190

1540

1890

2310

3080

3780

4480

6020

7700

11200

14700

18200

23100

Peak load

(L/h)

62

105

149

193

237

289

385

473

560

753

963

1400

1838

2275

2888

Organic load

(kgBOD5/d)

0.245

0.42

0.595

0.77

0.945

1.155

1.54

1.89

2.24

3.01

3.85

5. 6

7.35

9.10

11.55

Rated capacity

(P)

6

10

15

20

25

30

40

50

60

80

100

150

200

250

300

Max capacity

(P)

7

12

17

22

27

33

44

54

64

86

110

160

210

260

330

Electricity

AC 380V/50Hz/3φ, AC 440 V/60Hz/3φ, optional

Power(kw)

1.5

1.5

1.5

1.5

1.5

1.5

1.5

2.0

2.0

2.5

2.5

3.0

3.0

3.0

3.0

External dimensions(mm)

Length×width×height

1000

×

1170

×

1250

1300

×

1170

×

1380

1450

×

1320

×

1430

1500

×

1420

×

1480

1550

×

1470

×

1530

1650

×

1570

×

1680

1750

×

1670

×

1880

2000

×

1770

×

1850

2100

×

1920

×

1880

2500

×

2020

×

1930

2800

×

2200

×

2080

3200

×

2350

×

2250

3500

×

2750

×

2250

3800

×

2850

×

2250

4300

×

3150

×

2250

Weight

Dry weight(kg)

900

1050

1150

1200

1250

1350

1500

1750

1950

2150

2900

3800

4050

5000

6000

Wet weight(kg)

1580

2100

2600

2933

3210

3928

4689

5665

6486

8100

10400

14680

18330

22100

28172

Discharge standard

BOD5≯50mg/L, SS≯50mg/L, Colichin≯250pc/100ml, PH6~9
4. Biochemical Marine Sewage Treater Different Outline