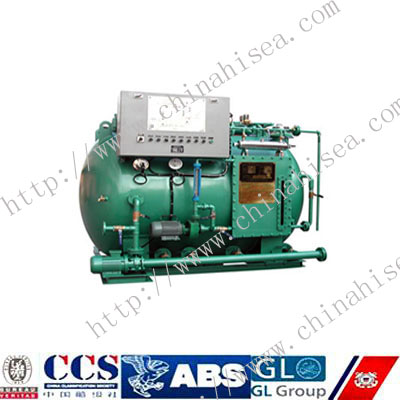 Oil Platform 200 persons STP
1. Description of STP
STP, the total name is Sewage Treatment Plant. Which is used for the sewage water treat in vessels or Oil Platform. To meet the IMO MEPC.159 (55) Resolution, which enacted on 13 October 2006, which is called "new standards".
Usually, the sewage water containing black water and gray water.
Black water, which means human body wastes and the wastes from the toilets on vessels or oil platform.
Gray water from galley & shower drainage.
2. Constitution of the Oil Platform 200 persons STP
The SWCM-200 type STP is mainly constituted by aeration tank, contact oxidation tank, settling tank, membrane tank, cutting pump, air blower, discharge pump, electric control box, membrane module, UV sterilizer and accessories of pipe lines.
3. Main technical characteristic of 200 persons STP
Rated capacity: 200persons
Max capacity: 210 persons
Rated hydraulic load:14700L/d
Rated peak load:1838L/h
Rated average load: 612.5L/h
4. Discharge standard: The discharge water should meet the requirements of IMO MEPC.159(55)resolution.
TSS≯35mg/l
BOD5≯25 mg/l
COD≯125 mg/l
Coliform ≯100个/100ml
pH=6~8.5
Discharge water pressure: 0.15 MPa
Outline dimension: L×B×H≈3635×2250×2400 mm
5. Complete machine is provided with SWCM-200 type STP
序号

No.

名称

Name

数 量

Amount

1

本体(包括曝气柜、接触柜、沉淀柜、膜柜)

Main body (includes aeration tank, contact oxidation tank, settling tank, membrane tank)

1套

1set

2

粉碎泵

Cutting pump

1台

1set

3

风机

air blower

2台

2sets

4

排放泵

Discharge pump

1台

1set

5

紫外线消毒装置

UV disinfectant

1台

1set

6

膜组

Membrane module

1套

1set

7

电控箱

Electric control box

1台

1set

8

隶属于装置的管系及附件

Piping accessory of device

1套

1set
6. General Drawing of 200 persons STP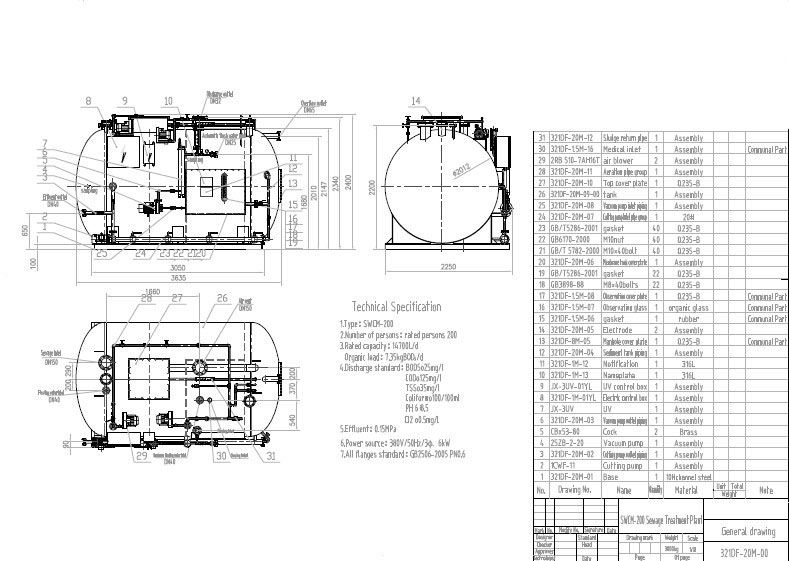 7. The STP in our Workshop