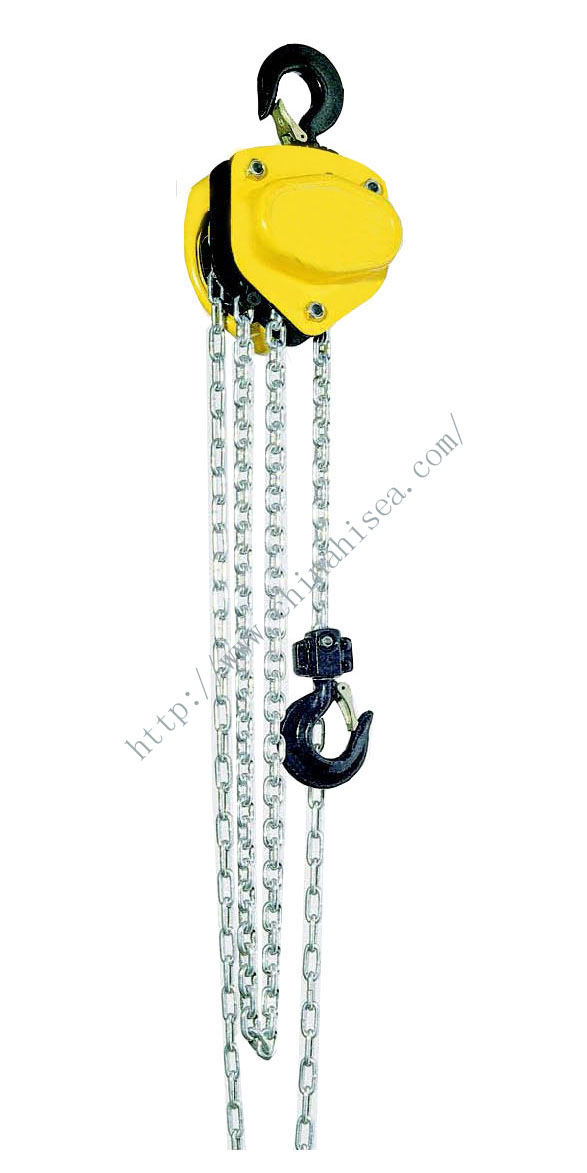 Chain Hoist with capacity 500kg to 30 tonnes
Chain Hoist with capacity 500kg to 30 tonnes
Product Name:
Chain Hoist with capacity 500kg to 30 tonnes
Material:
Steel
Spec:
Capacities: 500kg to 30 tonnes
FEATURES
• Lightweight robust construction
• Super strength alloy loadchain
• Fully machined liftwheel
• Minimum headroom
• Minimum effort to raise maximum load
• Cast steel safety latches
• Fully enclosed gear train
• Lower hook complete with trust race
• Galvanised handchain as standard
• Durable baked enamel paint protection
• Stainless Steel labels
• Spare parts always available
Application:
Loadsafe Chain Hoists are fitted with an overload - activated clutch which
protects the operator from injury and the hoist from damage. Should an
overload occur, the hoist will automatically stop transmitting the load,
warning the operator to either reduce the load or select a hoist with a
higher lifting capacity. Even when clutch is activated the load can be
transmitted in the "DOWN" direction.
Technical Drawing For Chain Hoist with capacity 500kg to 30 tonnes: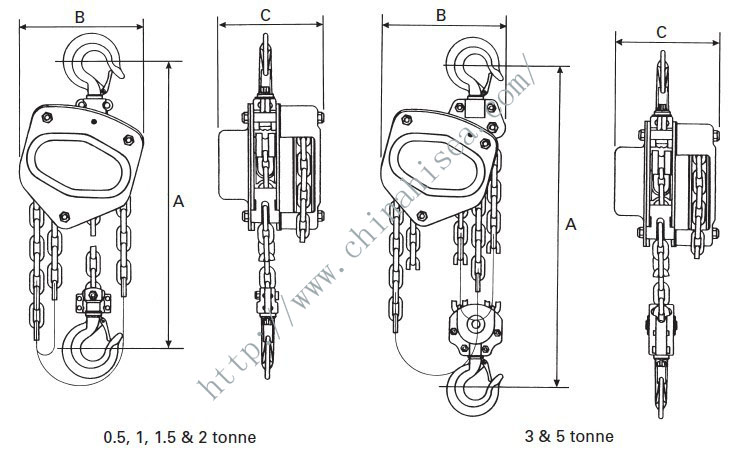 Parameters For Chain Hoist with capacity 500kg to 30 tonnes:
Product Code
SOCB05
SOCB1
SOCB1.5
SOCB2
SOCB3
SOCB5
SOCB10
Working Load Limit
0.5 t
1 t
1.5 t
2 t
3 t
5 t
10 t
Standard lift
3 m
3 m
3 m
3 m
3 m
3 m
3m
Falls of chain
1
1
1
1
2
2
4
Effort to lift W.L.L.
23 kg
30 kg
32 kg
35 kg
27 kg
41 kg
39 kg
Net weight
10 kg
12 kg
13 kg
22 kg
32 kg
46 kg
68 kg
Loadchain diameter
6 mm
6 mm
8 mm
8 mm
8 mm
10 mm
10 mm
CLEARANCE DIMENSIONS (mm)
A (Headroom)
270
317
399
414
465
636
750
B (Width)
127
158
187
187
210
253
373
C (Depth)
131
140
161
161
161
161
184
Hook opening (upper)
30
28
36
33.5
40
50
64
Hook opening (lower)
30
28
36
33.5
40
50
64